You are previewing:

The Curse of the Ancient Emerald (Hardy Boys Adventures #9)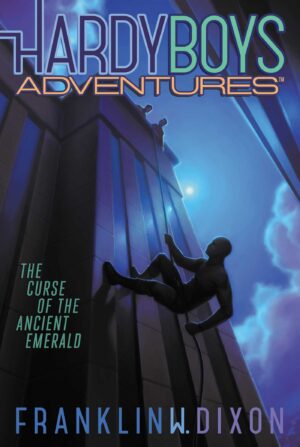 The Curse of the Ancient Emerald (Hardy Boys Adventures #9)
The Curse of the Ancient Emerald (Hardy Boys Adventures #9)
Age Range: 8 – 12 years
Frank and Joe must take the shine off a jewel thief who sends ominous riddles in this Hardy Boys adventure.
First a priceless painting disappears from the museum; then two ancient samurai swords vanish from a private collection. A string of robberies has hit Bayport, and all signs point to "the Phantom," a recently released ex-con who last struck more than twenty years ago. There's only one problem: the Phantom has vanished into thin air, and not even Frank and Joe Hardy can track him down.
Then the boys begin receiving threatening notes in the mail, each one containing a strange riddle. And it looks like the Phantom's next target could be the valuable Emerald of Astara, the 2,500-year-old crown jewel of the Bayport Historical Museum. Can the Hardys crack the Phantom's code before he strikes again?
₵40.00
Out of stock
SKU:

BK4093
Categories: 9-12 years, Action & Adventure, Age Range, Ages 6-8 years, Author Origin, Book Sets, Children & Teens, Children Classics, Illustrated books, Literary Fiction, Literature & Fiction, Mysteries & Detective Stories, Teens, US/Canadian Authors, Young Reader
Tags: Franklin W Dixon, Hardy Boys, Hardy Boys Adventures, The Curse of the Ancient Emerald (Hardy Boys Adventures #9)
Franklin W. Dixon is the pen name used by a variety of different authors (Leslie McFarlane, a Canadian author, being the first) who wrote The Hardy Boys novels for the Stratemeyer Syndicate (now owned by Simon & Schuster). This pseudonym was also used for the Ted Scott Flying Stories series.
Customers Also Bought These