You are previewing:

Religion, Culture and Language: An Appreciation of the Intellectual Legacy of Dr. J.B. Danquah (The J.B. Danquah Memorial Lecture, Series 37; 2004)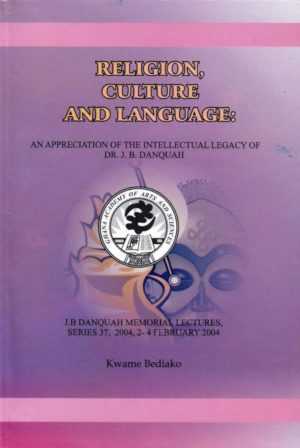 Religion, Culture and Language: An Appreciation of the Intellectual Legacy of Dr. J.B. Danquah (The J.B. Danquah Memorial Lecture, Series 37; 2004)
Religion, Culture and Language: An Appreciation of the Intellectual Legacy of Dr. J.B. Danquah (The J.B. Danquah Memorial Lecture, Series 37; 2004)
Lectures delivered by Professor Kwame Bediako, former Rector of the Akrofi-Christaller Institute for Theology, Mission, and Culture. Delivered in February, 2004.
Lecture 1: Danquah's Insight Regarding the Centrality of Transcendence in Human Thought
Lecture 2: Danquah's Conception of Culture and Its Place in the Renewal and Enhancement of Society
Lecture 3: Danquah's Use of Mother Tongue in Intellectual Discourse and Its Relevance in Our Time
₵30.00
In stock
SKU:

BK935
Categories: Academic papers, African Authors, Author Origin, Education & Teaching, Ghana, Reference, Science & Math
Tags: 2004, Culture and Language: An Appreciation of the Intellectual Legacy of Dr. J.B. Danquah (The J.B. Danquah Memorial Lecture, GAAS, Ghana Academy of Arts and Sciences, J.B. Danquah Memorial Lectures, Kwame Bediako, Religion, Series 37)
Tim Hartman is associate professor of Theology at Columbia Theological Seminary, Decatur, Georgia, USA. He holds a PhD from the University of Virginia in the area of theology, ethics, and culture and is also an ordained minister in the Presbyterian Church (USA).
Dr. Hartman has published articles in several journals on topics such as global contemporary theologies, Christology, and lived theology. He is also the author of Theology After Colonization: Bediako, Barth and the Future of Theological Reflection.