You are previewing:

No Way Out (Hardy Boys Mysteries #187)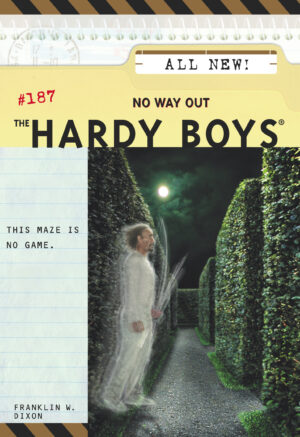 No Way Out (Hardy Boys Mysteries #187)
No Way Out (Hardy Boys Mysteries #187)
Age Range: 8 – 12 years
A Haunted Maze Has Twice The Dead Ends.
Frank and Joe are thrilled to be taking part in the grand opening celebration of a new maze in Cape Breton, Nova Scotia. By solving puzzles — their specialty — they could win a valuable prize! But once they arrive, the teens soon have a new puzzle to solve:
The owner and designer of the maze, Chezleigh Alan Horton, suddenly disappears.
As the boys make their way through a labyrinth of suspects, they face a new twist. Can Frank and Joe unravel a decade-old riddle to save the renowned mazemaster?
₵40.00
Out of stock
SKU:

BK4465
Categories: 9-12 years, Action & Adventure, Age Range, Ages 6-8 years, Author Origin, Book Sets, Children & Teens, Children Classics, Illustrated books, Literary Fiction, Literature & Fiction, Mysteries & Detective Stories, Teens, US/Canadian Authors, Young Reader
Tags: Franklin W Dixon, Hardy Boys, No Way Out, No Way Out (Hardy Boys Mysteries #187)
Franklin W. Dixon is the pen name used by a variety of different authors (Leslie McFarlane, a Canadian author, being the first) who wrote The Hardy Boys novels for the Stratemeyer Syndicate (now owned by Simon & Schuster). This pseudonym was also used for the Ted Scott Flying Stories series.
Customers Also Bought These