You are previewing:

Nancy Drew Ghost Stories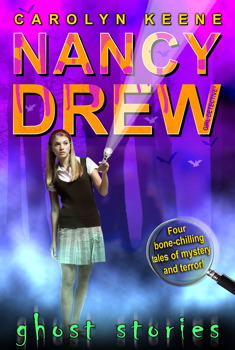 Nancy Drew Ghost Stories
Nancy Drew Ghost Stories
Age Range: 8 – 12 years
Ghost Stories

Manga Mayhem – Bess, George, and I go to Japan, where my dad is involved in a battle between two manga artists. When we get there, we discover skeletons in everyone's closets! The question is…are they real?
America's Got Terror – My friends and I spend a week in a haunted house for a new reality show. I'm convincved that the spookiness is just because of the special effects, until things start happening that even I can't explain…
Visitor from Beyond – When a new girl comes to town, suspicious things start happening all over River Heights. It looks like someone wants me to solve a mystery – someone from beyond the grave!
Carnival of Fear – My friends and I are excited to go to the reopening of Funland Park, but when we get there, we discover something even scarier than the rides…
₵35.00
Only 1 left in stock
SKU:

BK4822
Categories: 9-12 years, Action & Adventure, Age Range, Ages 6-8 years, Author Origin, Book Sets, Children & Teens, Children Classics, Illustrated books, Literary Fiction, Literature & Fiction, Mysteries & Detective Stories, Teens, US/Canadian Authors, Young Reader
Tags: Carolyn Keene, Nancy Drew, Nancy Drew Ghost Stories
Carolyn Keene is a pen name used by a variety of authors for the classic Nancy Drew Mystery series. The first author to use the pseudonym was Mildred Wirt Benson, who wrote 23 of the original 30 books. Other writers who have adapted the "Carolyn Keene" moniker include Leslie McFarlane, James Duncan Lawrence, Walter Karig, and Nancy Axelrod.
Customers Also Bought These