You are previewing:

Introduction to the Law of Torts in Ghana (Hardcover)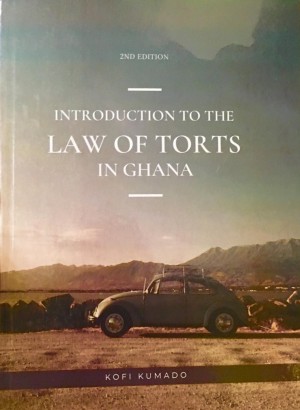 Introduction to the Law of Torts in Ghana (Hardcover)
| | |
| --- | --- |
| Weight | 0.77 kg |
| ISBN | 9780854901562 |
| Pages | 264 |
| Year Published | 2015 |
| Format | Hardback |
| Author | Kofi Kumado |
| Publisher | Black Mask |
Introduction to the Law of Torts in Ghana (Hardcover)
This book attempts to state the Law of Torts as it should apply in the Ghana legal stem. Article I I of the 1992 Constitution recognises the common law principles as they were received from the Anglo-American common law tradition as part of the Laws of Ghana. Section 54 of the Courts Act, 1993 (Act 459) provides that our courts may in the determination of any issue arising from the common law, adopt, develop and apply remedies from any other legal system based on the Anglo-American legal tradition.
In many contemporary common law countries, for example the UK and the USA, however, there has been an explosion of statutory interventions in the common law. This is reflected in the discussions of the common law principles in the recent editions of textbooks written in those countries. Unfortunately, these statutes are not "statutes of general application," as this phrase is used and understood in the Ghana legal system. The admixture of these statutes and the common law in these countries makes the isolation of the parts of those books,  which are helpful to our causes in Ghana, a major challenge.
This book attempts to isolate what is usable from what is not. The hope of the author and the publishers is that the reader, whether a practitioner or student, will find the principles of torts law, as stated in the book, devoid of the statutory contaminations.
₵300.00
Available on backorder
SKU:

BK5764
Categories: Academic papers, African Authors, African Biographies, Author Origin, Biographies & Memoirs, Business, Finance & Law, Education & Teaching, Ghana, Historical, Law, Law Textbooks, Lawyers & Judges, Leaders & Notable People, Professionals & Academics, Reference, Tertiary Textbooks, Textbooks
Tags: Black Mask, Common Law, Ghana Law, Introduction to the Law of Torts in Ghana, Kofi Kumado, Law, Law of Torts, Torts
| | |
| --- | --- |
| Weight | 0.77 kg |
| ISBN | 9780854901562 |
| Pages | 264 |
| Year Published | 2015 |
| Format | Hardback |
| Author | Kofi Kumado |
| Publisher | Black Mask |
BORN in March. 1949, Kofi Kumado had his Secondary Education at Bishop Herman College, Kpando in the Volta Region of Ghana. He received his University Education at the University of Ghana, Legon and the State University of Lei den, Leiden (the Netherlands).
Since August 1976, he has taught at the Faculty of Law, University of Ghana, Legon. His teaching covered Torts, Constitutional Law, Legal System and Legal Methods. Comparative Law and aspects of International Human Rights Law. He also taught Media Law and Health Law at the School of Communication Studies, Legon and the University of Ghana Business School respectively.
In his last years at Legon, he served as Director of the Legon Centre for International Affairs ( LECIA). He is a member of the Law firm, W.C. Ekow Daniels and Company.
Customers Also Bought These