You cannot add "The Alchemist" to the cart because the product is out of stock.
You are previewing:

Get a Load of This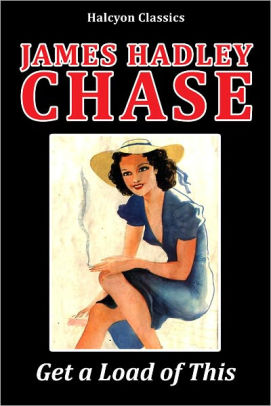 Get a Load of This
Get a Load of This
Get a load of this! The hardboiled world of James Hadley Chase, the thriller maestro, is recaptured in this new edition of tough and gritty tales.
An early morning stroll in the park, or a lonely cross-country drive to Florida; evading arrest in war-torn Cuba, or sipping bourbon in the Bronx—it makes no odds, serious trouble lies just around the corner…. The sleazy jungle of lamp-lit streets, faded hotel lobbies and soulless freeways is the setting for a menagerie of typically brash Chase characters: all-metal blondes that weaken your resistance, merciless thugs in uniform and third-rate double-crossers.
Fast-paced and crackling with cynical wit, this classic anthology shows why Chase is the unchallenged British champion of the tough American tradition.
Publisher's Note
This remarkable collection of short stories was first published in 1942 and is now re-issued for the first time. It is a tribute to the vigour and storytelling ability of James Hadley Chase that after so many years these tales still shock and thrill the reader.
René Lodge Brabazon Raymond was born on 24th December 1906 in London, England, the son of Colonel Francis Raymond of the colonial Indian Army, a veterinary surgeon. His father intended his son to have a scientific career, was initially educated at King's School, Rochester, Kent. He left home at the age of 18 and became at different times a children's encyclopedia salesman, a salesman in a bookshop, and executive for a book wholesaler before turning to a writing career that produced more than 90 mystery books. His interests included photography (he was up to professional standard), reading and listening to classical music, being a particularly enthusiastic opera lover. Also as a form of relaxation between novels, he put together highly complicated and sophisticated Meccano models.
In 1932, Raymond married Sylvia Ray, who gave him a son. They were together until his death fifty three years later. Prohibition and the ensuing US Great Depression (1929–1939), had given rise to the Chicago gangster culture just prior to World War II. This, combined with her book trade experience, made him realise that there was a big demand for gangster stories. He wrote as R. Raymond, James Hadley Chase, James L. Docherty, Ambrose Grant and Raymond Marshall.
During World War II he served in the Royal Air Force, achieving the rank of Squadron Leader. Chase edited the RAF Journal with David Langdon and had several stories from it published after the war in the book Slipstream: A Royal Air Force Anthology.
Raymond moved to France in 1956 and then to Switzerland in 1969, living a secluded life in Corseaux-sur-Vevey, on Lake Geneva, from 1974. He eventually died there peacefully on 6 February 1985.