You are previewing:

Geronimo Stilton: The Stone of Fire (Cavemice #1)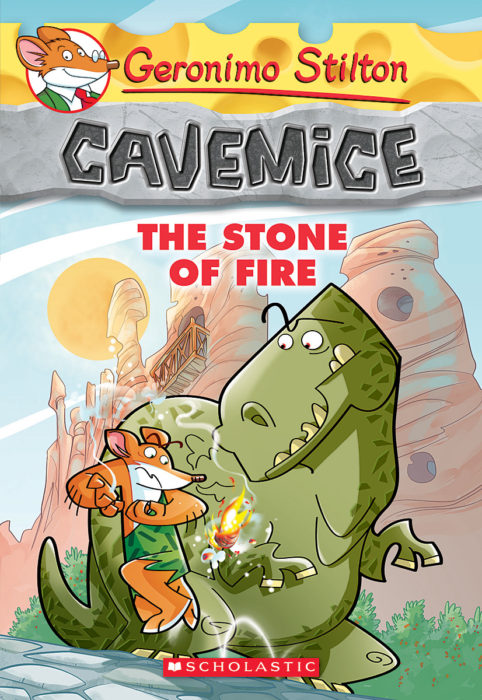 Geronimo Stilton: The Stone of Fire (Cavemice #1)
Sale!
Geronimo Stilton: The Stone of Fire (Cavemice #1)
Age Range: 7 – 12 years
Geronimo Stilton meets The Flintstones in this NEW, prehistoric spin-off series!
Welcome to the world of Cavemice! Geronimo Stiltonoot, Geronimo Stilton's ancient ancestor, lives in the village of Old Mouse City, where he is the editor of THE STONE GAZETTE. Every day, he carves the news into slabs of stone, because the printing press hasn't been invented yet! Life in the Stone Age is full of adventure, whether he's dodging meteorites or trying to avoid a saber-toothed tiger or ferocious T-Rex. He's chiseled all of his outrageously funny tales into stone so everyone will know what it was like to live in the Stone Age!
In this adventure, Old Mouse City is in an uproar. The most precious artifact in the Old Mouse City Mouseum–the Stone of Fire–has been stolen! Geronimo Stiltonoot and his cavemouse friend Hercule Poirat are on the case. It's up to them to retrieve the stone from the ferocious Tiger Khan and his band of fearsome felines!
₵50.00
Out of stock
SKU:

BK2933
Categories: 9-12 years, Action & Adventure, Age Range, Ages 6-8 years, Animals, Children & Teens, Humorous Fiction, Illustrated books, Mysteries & Detective Stories, Science Fiction & Fantasy
Tags: Cavemice, Geronimo Stilton, Thea Stilton
A pseudonym of Elisabetta Dami, aka Thea Stilton.
Elisabetta Dami is an Italian author that currently resides in Italy. She is the author of the Geronimo Stilton series, a bestselling children's book. She enjoys traveling the world seeking ideas for her series. She writes under a pseudonym of Geronimo Stilton. She is also a co-owner of Italian based publishing company Edizioni Piemme. Her books have been translated into English by Scholastic Inc.