You are previewing:

Geronimo Stilton: Alien Escape (Spacemice #1)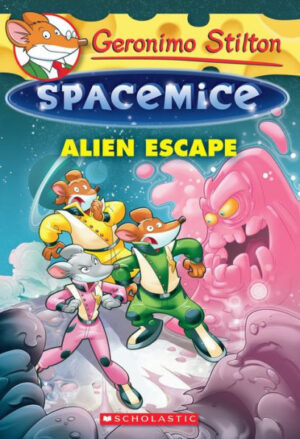 Geronimo Stilton: Alien Escape (Spacemice #1)
Sale!
Geronimo Stilton: Alien Escape (Spacemice #1)
Age Range: 7 – 12 years
An all-new Geronimo Stilton series spin-off, set in outer space!
Meet Geronimo Stiltonix:
He is a spacemouse — the Geronimo Stilton of a parallel universe! He is captain of the spaceship MouseStar 1. While flying through the cosmos he visits distant planets and meets crazy aliens. His adventures are out of this world!
Geroimo Stiltonix's spaceship is in danger of exploding! The only solution is to replace the engine's batteries by tracking down a rare element. When a group of mysterious aliens claim they can help, Geronimo is relieved. But are the aliens as friendly as they seem?
₵50.00
Out of stock
SKU:

BK2935-1
Categories: 9-12 years, Action & Adventure, Age Range, Ages 6-8 years, Animals, Children & Teens, Humorous Fiction, Illustrated books, Mysteries & Detective Stories, Science Fiction & Fantasy
Tags: Geronimo Stilton, Spacemice
A pseudonym of Elisabetta Dami, aka Thea Stilton.
Elisabetta Dami is an Italian author that currently resides in Italy. She is the author of the Geronimo Stilton series, a bestselling children's book. She enjoys traveling the world seeking ideas for her series. She writes under a pseudonym of Geronimo Stilton. She is also a co-owner of Italian based publishing company Edizioni Piemme. Her books have been translated into English by Scholastic Inc.