You are previewing:

Dork Diaries: How to Dork Your Diary (Dork Diaries #3 1/2)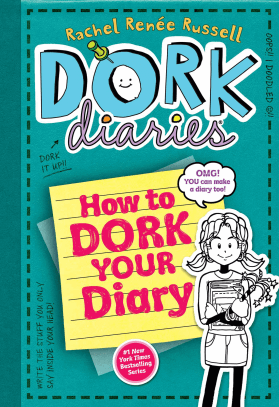 Dork Diaries: How to Dork Your Diary (Dork Diaries #3 1/2)
Dork Diaries: How to Dork Your Diary (Dork Diaries #3 1/2)
Age Range: 9 – 13 years
I've been writing in my diary since the start of the school year, and I almost always take it wherever I go—but OMG!—of course, one morning I just could not find it ANYWHERE! Eek! I looked for it EVERYWHERE, writing down anywhere I thought it could maybe be…losing your diary is the WORST!!
Then I decided that until I find it, I totally HAD to put together a list of important diary-keeping lessons to remember in case of missing diary emergencies like this one.This diary is full of tips from me on fun things to write about in your diary, with space for you to write and draw your own entries. Meanwhile, my BFFs Chloe and Zoey, my ANNOYING little sister Brianna, my crush Brandon (sighhh), and mean girl MacKenzie are all involved in the search for my real diary, with plenty of adventures along the way! SQUEEE!!!
₵40.00
Out of stock
SKU:

BK1367
Categories: 9-12 years, Age Range, Children & Teens, Comics & Graphic Novels, Friendship, Growing Up & Facts of Life, Humorous Fiction, Illustrated books, Teens, Young Adult Fiction
Tags: Dork Diaries, Rachel Renée Russell
Rachel Renée Russell is a #1 New York Times Best Selling author and attorney who prefers writing children's books to legal briefs. The Dork Diaries series has received two Children's Choice Awards For Book of the Year (5th/6th Grade Division) and a Nickelodeon Kid's Choice Award nomination for Best Book. Rachel was the recipient of the 2014 Milner Award For Children's Literature.
The series has sold over 30 million copies with translation into 36 languages worldwide. Movie rights have been optioned by Lionsgate Summit films. Rachel resides in Northern Virginia.