You are previewing:

Digital Fortress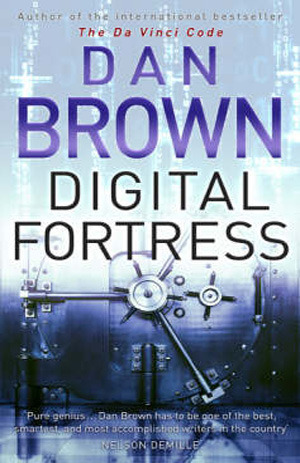 Digital Fortress
Digital Fortress
Before the multi-million, runaway bestseller The Da Vinci Code, Dan Brown set his razor-sharp research and storytelling skills on the most powerful intelligence organization on earth–the National Security Agency (NSA)–in this thrilling novel, Digital Fortress.

When the National Security Agency's invincible code-breaking machine encounters a mysterious code it cannot break, the agency calls its head cryptographer, Susan Fletcher, a brilliant, beautiful mathematician. What she uncovers sends shock waves through the corridors of power. The NSA is being held hostage…not by guns or bombs but by a code so complex that if released would cripple U.S. intelligence.
Caught in an accelerating tempest of secrecy and lies, Fletcher battles to save the agency she believes in. Betrayed on all sides, she finds herself fighting not only for her country but for her life. It is a battle for survival―a crucial bid to destroy a creation of inconceivable genius that threatens to obliterate the balance of world power…for all time.
₵65.00
Out of stock
SKU:

BK2105
Categories: Assassinations, Conspiracies, Espionage, Literature & Fiction, Mystery, Thriller & Suspense, Political, Spies & Politics, Suspense, Terrorism
Tags: Dan Brown, Digital Fortress
Dan Brown is the author of numerous #1 bestselling novels, including The Da Vinci Code, which has become one of the best selling novels of all time as well as the subject of intellectual debate among readers and scholars. Brown's novels are published in 52 languages around the world with 200 million copies in print.
In 2005, Brown was named one of the 100 Most Influential People in the World by TIME Magazine, whose editors credited him with "keeping the publishing industry afloat; renewed interest in Leonardo da Vinci and early Christian history; spiking tourism to Paris and Rome; a growing membership in secret societies; the ire of Cardinals in Rome; eight books denying the claims of the novel and seven guides to read along with it; a flood of historical thrillers; and a major motion picture franchise."
The son of a mathematics teacher and a church organist, Brown was raised on a prep school campus where he developed a fascination with the paradoxical interplay between science and religion. These themes eventually formed the backdrop for his books. He is a graduate of Amherst College and Phillips Exeter Academy, where he later returned to teach English before focusing his attention full time to writing.
Brown is currently at work on a new book as well as the Columbia Pictures film version of his most recent novel.