You are previewing:

Danger on the Great Lakes (Nancy Drew, #173)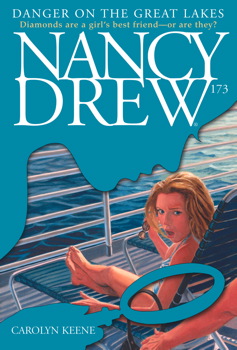 Danger on the Great Lakes (Nancy Drew, #173)
Danger on the Great Lakes (Nancy Drew, #173)
Age Range: 8 – 12 years
THERE'S MORE EXCITEMENT ON THIS CRUISE SHIP THAN NANCY BARGAINED FOR!
Nancy, Bess, and George are going on a cruise around the Great Lakes for a fantastic end-of-summer vacation! As soon as the girls set foot on the ship, though, they smell something fishy. Their new friend Amber is upset because her boyfriend, Craig, is neglecting her. After a little investigating on her friend's behalf, Nancy learns that Craig is really a detective. He's been busy hunting for a mastermind diamond thief who may well be on the ship. And it turns out Craig can use some help.
Soon Nancy's hunting for clues on land and offshore. Where there's stolen diamonds, though, there's danger — and Nancy and her friends are soon caught in the thick of it. Will Nancy be able to crack this case before her ship is sunk?
₵35.00
Out of stock
SKU:

BK4833
Categories: 9-12 years, Action & Adventure, Age Range, Ages 6-8 years, Author Origin, Book Sets, Children & Teens, Children Classics, Illustrated books, Literary Fiction, Literature & Fiction, Mysteries & Detective Stories, Teens, US/Canadian Authors, Young Reader
Tags: Carolyn Keene, Danger on the Great Lakes (Nancy Drew #173), Nancy Drew
Carolyn Keene is a pen name used by a variety of authors for the classic Nancy Drew Mystery series. The first author to use the pseudonym was Mildred Wirt Benson, who wrote 23 of the original 30 books. Other writers who have adapted the "Carolyn Keene" moniker include Leslie McFarlane, James Duncan Lawrence, Walter Karig, and Nancy Axelrod.
Customers Also Bought These