You are previewing:

CorrectStart Teaching Modules for Preschool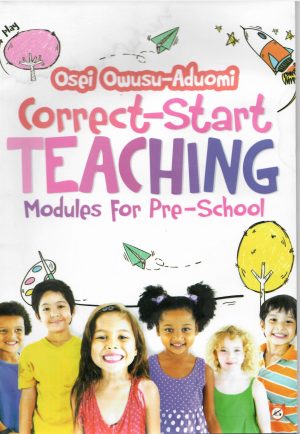 CorrectStart Teaching Modules for Preschool
CorrectStart Teaching Modules for Preschool
An education curriculum specialist critically studied a core curriculum. He then broke it down, simplified it and made it more flexible. The resultant products derived from the study are termed Schemes of work, "teaching modules' or learning programs.
This book is a compendium of subjects, including age grouping, teaching and learning methodologies, usage of TLMs, weekly and termly coverage.
As early year education is largely based on individual learning and teaching, weekly and termly coverage must not be rigidly structured for all learners (kids) belonging to a particular age group. Emphasis is placed on the concepts of 'repetition' and "a-bit-at-a-time'.
CorrectStart Teaching Modules for Preschool contains functional pupils' workbooks for all subjects.
An Indispensable Guide – Book for Parents, Teachers, School Proprietors, Social workers, Global Agencies and NGOs.
₵35.00
Available on backorder
SKU:

BK5005
Categories: Activity book, African Authors, Age Range, Ages 3-5 years, Author Origin, Baby - 2 years, Basic School Textbooks, Children & Teens, Early Childhood Education, Education & Teaching, English Language, Ghana, Language Instruction, Languages, Lower Primary Textbooks, Pre-school, Textbooks, Workbooks
Tags: CorrectStart Teaching Modules for Preschool, Notion Press, Textbook, Textbooks
Osei Owusu – Aduomi studied at the West Africa Secondary School (WASS) in Accra. He then went on to pursue higher education at Wesley College (WESCO) in Kumasi and World Tutorial College in Britain.
He has some forty years of experience teaching in Ghana and Nigeria. He has practically taught children and adults across several age groups – preschool, basic school, high school and teacher's college.
He is one of the private key stakeholders who has contributed to policy formation for Early childhood care and Development Education (ECCDE) in Nigeria and Ghana. He is also a youth development consultant.
He has written and published 17 relevant books till date, all of which has become blockbusters. He is currently the Chairman and Chief Executive Officer of Pro- Education Projects in Accra, Ghana.
Customers Also Bought These