You are previewing:

Are You My Mother?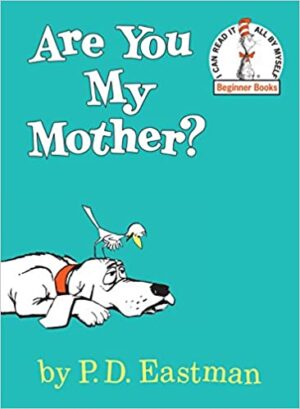 Are You My Mother?
Are You My Mother?
Age Range: 3+ years
This must-have classic about a baby bird in search of his mother is the perfect gift for Mother's Day!
A baby bird goes in search of his mother in this hilarious Beginner Book edited by Dr. Seuss. When a mother bird's egg starts to jump, she hurries off to make sure she has something for her little one to eat. But as soon as she's gone, out pops the baby bird. He immediately sets off to find his mother, but not knowing what she looks like makes it a challenge. The little hatchling is determined to find his mother, even after meeting a kitten, a hen, a dog, and a Snort. The timeless message of the bond between mother and child make P. D. Eastman's Are You My Mother? a must for baby showers, beginning readers, and Mother's Day.
Originally created by Dr. Seuss, Beginner Books encourage children to read all by themselves, with simple words and illustrationsthat give clues to their meaning.
₵40.00
Only 2 left in stock
SKU:

BK4039
Categories: Activities, Crafts & Games, Activity book, Age Range, Ages 3-5 years, Ages 6-8 years, Alphabet, Animals, Basic Concepts, Beginner Readers, Children & Teens, Children Classics, Early Childhood Education, Illustrated books, Promos & Bundles, Size & Shape
Tags: Are You My Mother ?, Dr. Seuss, P. D. Eastman
Theodor Seuss Geisel—aka Dr. Seuss—is one of the most beloved children's book authors of all time. From The Cat in the Hat to Oh, the Places You'll Go!, his iconic characters, stories, and art style have been a lasting influence on generations of children and adults. The books he wrote and illustrated under the name Dr. Seuss (and others that he wrote but did not illustrate, including some under the pseudonyms Theo. LeSieg and Rosetta Stone) have been translated into 30 languages. Hundreds of millions of copies have found their way into homes and hearts around the world. Dr. Seuss's long list of awards includes Caldecott Honors for McElligot's Pool, If I Ran the Zoo, and Bartholomew and the Oobleck; the Pulitzer Prize; and eight honorary doctorates. Works based on his original stories have won three Oscars, three Emmys, three Grammys, and a Peabody.
Philip Dey "Phil" Eastman (November 25, 1909 - January 7, 1986) was an American screenwriter, children's author, and illustrator. As an author, he is known primarily as P. D. Eastman.
Bio from Wikipedia, the free encyclopedia.