You are previewing:

A Taste of Danger (Nancy Drew #174)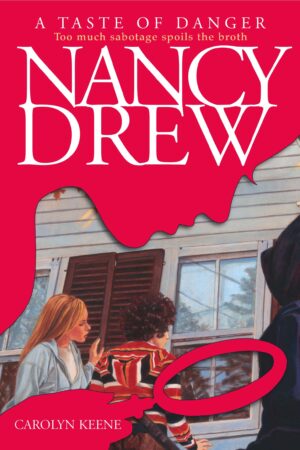 A Taste of Danger (Nancy Drew #174)
A Taste of Danger (Nancy Drew #174)
Age Range: 8 – 12 years
This Resort Has The Recipe For Disaster!
Nancy's thrilled that she, Bess, George, and Hannah will be attending the grand opening of the newly renovated Gourmet Getaway. Not only will they be able to eat four-star meals prepared by master chefs, they'll get to take cooking classes with them, too. But before the table's even set, problems start plaguing the resort, both in and out of the kitchen. Nancy can't believe it's just bad luck, but who's causing all the problems?
Nancy puts her cooking on the back burner so she can devote her attention to solving the mystery. Can she manage to find out who's behind the trouble before more sabotage is served?
₵35.00
Out of stock
SKU:

BK4086
Categories: 9-12 years, Action & Adventure, Age Range, Ages 6-8 years, Author Origin, Book Sets, Children & Teens, Children Classics, Illustrated books, Literary Fiction, Literature & Fiction, Mysteries & Detective Stories, Teens, US/Canadian Authors, Young Reader
Tags: Carolyn Keene, Nancy Drew, Nancy Drew Diaries
Carolyn Keene is a pen name used by a variety of authors for the classic Nancy Drew Mystery series. The first author to use the pseudonym was Mildred Wirt Benson, who wrote 23 of the original 30 books. Other writers who have adapted the "Carolyn Keene" moniker include Leslie McFarlane, James Duncan Lawrence, Walter Karig, and Nancy Axelrod.
Customers Also Bought These