You are previewing:

A Month and A Day & Letters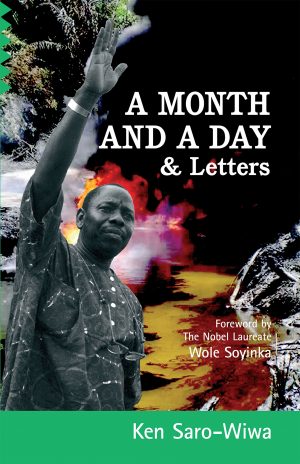 A Month and A Day & Letters
Related Products
Customers Also Bought These
A Month and A Day & Letters
A Month and A Day & Letters includes an edited version of A Detention Diary, Saro-Wiwa's own record of his arrest in July 1993, and the story of the Movement for the Survival of the Ogoni People (MOSOP) and the struggle against the multinational Shell and the Nigerian military dictatorship. Saro-Wiwa's criticisms and questioning of a corrupt regime eventually led to his execution with eight others on 10 November 1995.
This new edition has a Foreword by the Nobel Laureate, Wole Soyinka. It also includes a letter by Ken Wiwa to his late father 10 years on, and previously unpublished letters smuggled to and from Ken during his final imprisonment. Among these are letters from world leaders, writers and friends including Nelson Mandela, Nadine Gordimer, Ethel Kennedy, Anita Roddick and ordinary people from all over the world.
This book gives an insight into Ken Saro-Wiwa's ideology, his ultimate sacrifice for the Ogoni people and for all oppressed people, for a world that is sustainable, just and humane. Crucially, it highlights the central role that oil companies play in our daily lives. If you want to know why Ken Saro-Wiwa was killed, read his book.
'The writer is his cause, I am more and more convinced … that the path of literature is the assured way to human salvation and civilisation. I hail the power of the pen.' KS-W, writing to the President of International PEN, 3 September 1993
Kenule "Ken" Beeson Saro Wiwa was a Nigerian writer, television producer, environmental activist, and winner of the Right Livelihood Award and the Goldman Environmental Prize.
Saro-Wiwa was a member of the Ogoni people, an ethnic minority in Nigeria whose homeland, Ogoniland, in the Niger Delta has been targeted for crude oil extraction since the 1950s and which has suffered extreme environmental damage from decades of indiscriminate petroleum waste dumping. Initially as spokesperson, and then as President, of the Movement for the Survival of the Ogoni People (MOSOP), Saro-Wiwa led a nonviolent campaign against environmental degradation of the land and waters of Ogoniland by the operations of the multinational petroleum industry, especially the Royal Dutch Shell company.
He was also an outspoken critic of the Nigerian government, which he viewed as reluctant to enforce environmental regulations on the foreign petroleum companies operating in the area.
At the peak of his non-violent campaign, Saro-Wiwa was arrested, hastily tried by a special military tribunal, and hanged in 1995 by the military government of General Sani Abacha, all on charges widely viewed as entirely politically motivated and completely unfounded. His execution provoked international outrage and resulted in Nigeria's suspension from the Commonwealth of Nations for over three years.
Customers Also Bought These