You are previewing:

You've Got It Coming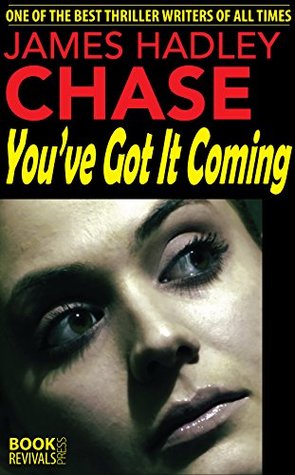 You've Got It Coming
You've Got It Coming
What does a pilot do when he is fired for having a relationship with an ex-model and actress? In "You've Got It Coming," Harry Griffin is such a pilot who has been a sucker too long, he thinks, and now he says, "I know where I can lay my hands on three million bucks, so I'm going to take them." This is his story, but it also the story of his girlfriend, Glorie Davis, who loves Harry more than herself and tries to save him from the inevitable consequences of his action.
"You've Got It Coming" has all the taut suspense and excitement the reader can expect from James Hadley Chase.
James Hadley Chase is probably the best know synonym of René Lodge Brabazon Raymond, an English writer also known by other pen names, including James L. Docherty, Raymond Marshall, R. Raymond, and Ambrose Grant. He is one of the best known thriller writers of all time. He was influenced by American crime writes and writers of hardboiled pulp fiction, but he rarely visited the United States and the books are based on knowledge acquired by reading and using reference materials. He has written some 90 books, almost half of which have been made into movies.
René Lodge Brabazon Raymond was born on 24th December 1906 in London, England, the son of Colonel Francis Raymond of the colonial Indian Army, a veterinary surgeon. His father intended his son to have a scientific career, was initially educated at King's School, Rochester, Kent. He left home at the age of 18 and became at different times a children's encyclopedia salesman, a salesman in a bookshop, and executive for a book wholesaler before turning to a writing career that produced more than 90 mystery books. His interests included photography (he was up to professional standard), reading and listening to classical music, being a particularly enthusiastic opera lover. Also as a form of relaxation between novels, he put together highly complicated and sophisticated Meccano models.
In 1932, Raymond married Sylvia Ray, who gave him a son. They were together until his death fifty three years later. Prohibition and the ensuing US Great Depression (1929–1939), had given rise to the Chicago gangster culture just prior to World War II. This, combined with her book trade experience, made him realise that there was a big demand for gangster stories. He wrote as R. Raymond, James Hadley Chase, James L. Docherty, Ambrose Grant and Raymond Marshall.
During World War II he served in the Royal Air Force, achieving the rank of Squadron Leader. Chase edited the RAF Journal with David Langdon and had several stories from it published after the war in the book Slipstream: A Royal Air Force Anthology.
Raymond moved to France in 1956 and then to Switzerland in 1969, living a secluded life in Corseaux-sur-Vevey, on Lake Geneva, from 1974. He eventually died there peacefully on 6 February 1985.