You are previewing:

Twelve Red Herrings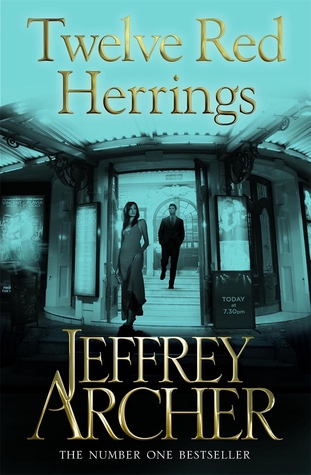 Twelve Red Herrings
Twelve Red Herrings
An imprisoned man is certain that his supposed murder victim is very much alive . . . A female driver is pursued relentlessly by a menacing figure in another vehicle . . . A young artist gets the biggest break of her career . . . A restless beauty manages the perfect birthday celebration . . . An escaped Iraqi on Saddam Hussein's death list pays an involuntary visit to his homeland . . . How will they react? How would you?

Twelve Red Herrings is the third collection of irresistible short stories from a master storyteller. Cleverly styled, with richly drawn characters and ingeniously plotted story lines, each of the twelve tales ends with a delightfully unexpected turn of events.
₵55.00
Out of stock
SKU:

BK3117
Categories: Action & Adventure, Author Origin, Detective, European Authors, Historical Fiction, Literature & Fiction, Mystery, Thriller & Suspense, Short Stories, Spies & Politics
Tags: Jeffrey Archer, Thriller, Twelve Red Herrings
Jeffrey Archer has topped the bestseller lists around the world, and is the only author ever to have been a number one bestseller in fiction (nineteen times), short stories (four times) and non-fiction (The Prison Diaries). He was born in London, and brought up in the West Country.
He gained a Blue in Athletics at Oxford, was President of the University Athletics Club, and went on to run the 100 yards in 9.6 seconds for Great Britain in 1966. Jeffrey has served five years in the House of Commons as a Member of Parliament, and twenty-six years as a Member of the House of Lords.
He has written 22 novels, 7 sets of short stories, 3 prison diaries, 3 plays (all of which have been performed in London's West End) and a gospel. His first novel, Not a Penny More, Not a Penny Less was sold to 17 countries within a year. It was also made into a successful serial for BBC Radio 4, and was later televised in 1990 by the BBC. He won the Prix Relay du Roman d'Évasion, a prize that rewards a novel in which readers can 'escape from everyday life', for his novel Paths of Glory, and the Prix Polar International Prize for the best international thriller of the year, for his novel A Prisoner of Birth.
The Clifton Chronicles, a series of seven novels published between 2011-2017 topped the bestseller lists around the world. His latest book of short stories, TELL TALE, is published in paperback in April 2018, and his next novel, HEADS YOU WIN, will be published in November.
Jeffrey is also an amateur auctioneer, conducting around 20 charity auctions a year. He has been married to Dame Mary Archer, Chairman of the Science Museum Group, for 52 years.