You are previewing:

Thea Stilton and the Blue Scarab Hunt (Thea Stilton #11)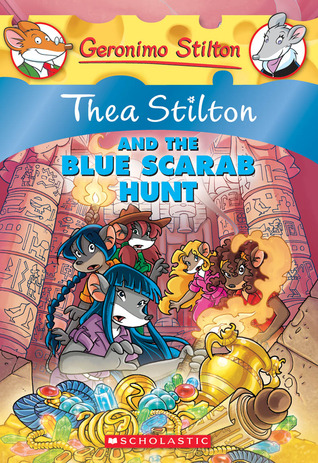 Thea Stilton and the Blue Scarab Hunt (Thea Stilton #11)
Thea Stilton and the Blue Scarab Hunt (Thea Stilton #11)
Age Range: 8 – 12 years
Geronimo's sister Thea Stilton narrates this action-packed adventure!
An ancient treasure is in danger!
The Thea Sisters have been invited to Egypt to participate in a fabumouse archeological excavation. They are helping to look for the legendary ancient Treasure of the Sun! A precious blue stone scarab may be the key to their search, and they work enthusiastically to uncover the past. But they also discover that thieves are after the hidden treasure. It's up to the Thea Sisters to stop them!
GHS 10 to deliver within Accra and Tema and GHS 20 to deliver outside Accra and Tema.
A pseudonym of Elisabetta Dami, aka Geronimo Stilton.
Elisabetta Dami is an Italian author that currently resides in Italy. She is the author of the Geronimo Stilton series, a bestselling children's book. She enjoys traveling the world seeking ideas for her series. She writes under a pseudonym of Geronimo Stilton. She is also a co-owner of Italian based publishing company Edizioni Piemme. Her books have been translated into English by Scholastic Inc.