View cart
"A Frog Named Korkoli" has been added to your cart.
You are previewing:

The Third Wheel (Diary of a Wimpy Kid #7)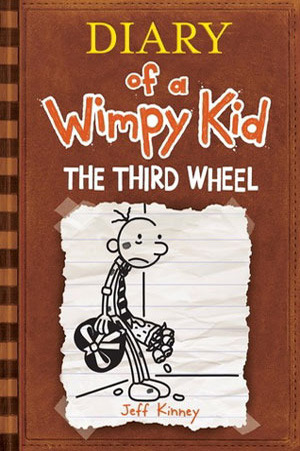 The Third Wheel (Diary of a Wimpy Kid #7)
The Third Wheel (Diary of a Wimpy Kid #7)
Age Range: 8 – 12 years
Join Greg Heffley in the seventh book in Jeff Kinney's hilarious Diary of a Wimpy Kid series!
When you live in a house with four other people, some fool is always gonna come along and ruin things for you.
Love is in the air, but what does that mean for Greg Heffley?
A Valentine's Day dance at Greg's school has turned his world upside down.
As Greg scrambles to find a date, he's worried he'll be left out in the cold on the big night. His best friend, Rowley, doesn't have any prospects either but that's small consolation.
Then an unexpected twist gives Greg a partner for the dance and leaves Rowley the odd man out. But a lot can happen in one night, and in the end, you never know who's going to be lucky in love . . .
The world is full of millions of Wimpy Kid fans! 7+ readers of all abilities can't get their heads out of Greg's diaries.
Jeff Kinney is a #1 New York Times bestselling author and four-time Nickelodeon Kids' Choice Award winner for Favorite Book. Jeff has been named one of Time magazine's 100 Most Influential People in the World. He is also the creator of Poptropica, which was named one of Time's 50 Best Websites. He spent his childhood in the Washington, D.C., area and moved to New England in 1995. Jeff lives with his wife and two sons in Plainville, Massachusetts, where he owns a bookstore, An Unlikely Story.