You are previewing:

The Lost Hero (The Heroes of Olympus Series #1)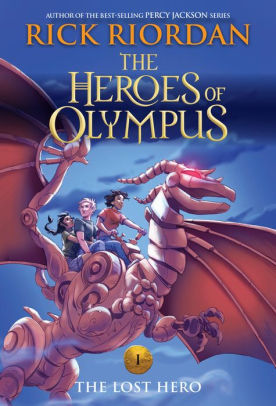 The Lost Hero (The Heroes of Olympus Series #1)
The Lost Hero (The Heroes of Olympus Series #1)
Age Range: 10 – 14 Years
The first book in the mega-bestselling Heroes of Olympus series by Rick Riordan, now available with fresh and exciting new cover art by graphic novelist Nilah Magruder. 
Jason has a problem. He doesn't remember anything before waking up on a school bus holding hands with a girl. Apparently she's his girlfriend Piper, his best friend is a kid named Leo, and they're all students in the Wilderness School, a boarding school for "bad kids." What he did to end up here, Jason has no idea-except that everything seems very wrong.
Piper has a secret. Her father has been missing for three days, and her vivid nightmares reveal that he's in terrible danger. Now her boyfriend doesn't recognize her, and when a freak storm and strange creatures attack during a school field trip, she, Jason, and Leo are whisked away to someplace called Camp Half-Blood. What is going on?
Leo has a way with tools.His new cabin at Camp Half-Blood is filled with them. Seriously, the place beats Wilderness School hands down, with its weapons training, monsters, and fine-looking girls. What's troubling is the curse everyone keeps talking about, and that a camper's gone missing. Weirdest of all, his bunkmates insist they are all-including Leo-related to a god.
Rick Riordan, the best-selling author of the Percy Jackson series, pumps up the action and suspense in The Lost Hero, the first book in The Heroes of Olympus series. Fans of demigods, prophecies, and quests will be left breathless—and panting in anticipation for Book Two.
₵55.00
Out of stock
SKU:

BK4235
Categories: 9-12 years, Action & Adventure, Age Range, Author Origin, Book Sets, Children & Teens, European Authors, Fairy Tales & Folklore, Fantasy & Magic, Literature & Fiction, Myths & Legends, Science Fiction & Fantasy, Teens, US/Canadian Authors, Young Reader
Tags: Rick Riordan, The Heroes of Olympus, The Lost Hero
Rick Riordan, dubbed "storyteller of the gods" by Publishers Weekly, is the author of five #1 New York Times best-selling middle grade series with millions of copies sold throughout the world: Percy Jackson and the Olympians, The Heroes of Olympus, and the Trials of Apollo, based on Greek and Roman mythology; the Kane Chronicles, based on Ancient Egyptian mythology; and Magnus Chase and the Gods of Asgard, based on Norse mythology. Rick collaborated with illustrator John Rocco on two #1 New York Times best-selling collections of Greek myths for the whole family: Percy Jackson's Greek Gods and Percy Jackson's Greek Heroes . Rick is also the publisher of an imprint at Disney-Hyperion, Rick Riordan Presents, dedicated to finding other authors of highly entertaining fiction based on world cultures and mythologies. He lives in Boston, Massachusetts with his wife and two sons.