You are previewing:

The Ghana Academy of Arts and Sciences: A Historical Perspective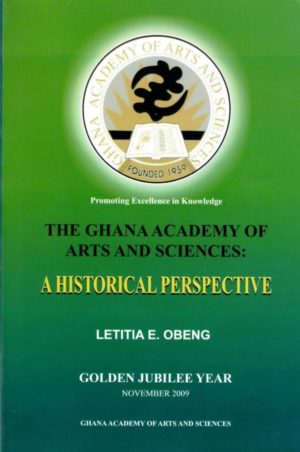 The Ghana Academy of Arts and Sciences: A Historical Perspective
The Ghana Academy of Arts and Sciences: A Historical Perspective
Published in 2009, during the Golden Jubilee year of the Ghana Academy of Arts and Sciences, this book presents a comprehensive account of the Academy's activities in its first fifty years.
The author was elected Vice President of the Science Section of the Academy in 1996 and, in 2006, she became the first female President of the Ghana Academy of Arts and Sciences.
Letitia Eva Takyibea Obeng (born 10 January 1925) is a Ghanaian scientist born at Anum in the Eastern Region and was the first Ghanaian woman to graduate with a bachelor's degree in science, as well as the first to be awarded a doctorate in science. She is described as "the grandmother of female scientists in Ghana".
Letitia Obeng holds a Ph.D. in public health and water resources engineering from Imperial College, University of London. She was Chair of the Global Water Partnership (an international network of over 2800 organizations in some 160 countries supported by 13 Regional and over 80 Country Water Partnerships), from January 1, 2008 to December, 31 2012. Letitia has extensive experience in water and sanitation service delivery. She spent many years, working with sector ministries and communities, on policies, strategies, project preparation, implementation and evaluation while partnering with other aid assistance groups and organizations. During the 25 years she spent at the World Bank, Letitia also worked on or was responsible for sustainable development areas such as water resource management, agriculture and rural development social/community development, environment, environmental health, waste management, urban development and growing capacity, Letitia held managerial and director positions in Africa, Middle East and North Africa and Latin America and the Caribbean and at the Corporate Level as Director, Office of the President while at the World Bank.
She was the first woman to be elected as the President of the Ghana Academy of Arts and Sciences.