You are previewing:

The Case of the Vanishing Veil (Nancy Drew, 83)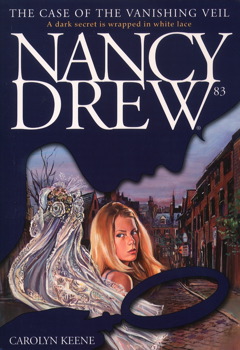 The Case of the Vanishing Veil (Nancy Drew, 83)
The Case of the Vanishing Veil (Nancy Drew, 83)
Age Range: 8 – 12 years
A Boston Wedding…
A Veiled Threat…
A Dangerous Environment…
When Nancy attends a wedding in Boston, she encounters a marriage marred by mischief. The groom may have stolen the bride's heart, but a thief has made off with her antique lace veil!
From a mansion in Cape Cod to a museum of witchcraft in Salem, Nancy, Bess, and George follow a trail of intrigue and deceit across the New England countryside. They uncover the shocking story behind the wedding-day prank — and a $60 million mystery behind the vanishing veil!
₵35.00
Out of stock
SKU:

BK4828
Categories: 9-12 years, Action & Adventure, Age Range, Ages 6-8 years, Author Origin, Book Sets, Children & Teens, Children Classics, Illustrated books, Literary Fiction, Literature & Fiction, Mysteries & Detective Stories, Teens, US/Canadian Authors, Young Reader
Tags: Carolyn Keene, Nancy Drew, The Case of the Vanishing Veil (Nancy Drew 83)
Carolyn Keene is a pen name used by a variety of authors for the classic Nancy Drew Mystery series. The first author to use the pseudonym was Mildred Wirt Benson, who wrote 23 of the original 30 books. Other writers who have adapted the "Carolyn Keene" moniker include Leslie McFarlane, James Duncan Lawrence, Walter Karig, and Nancy Axelrod.
Customers Also Bought These