You are previewing:

Language Guide (Dangme Version)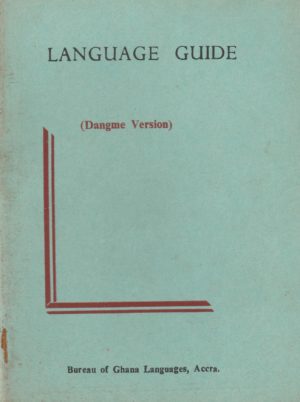 Language Guide (Dangme Version)
Language Guide (Dangme Version)
Dangme is the aboriginal language spoken by the people of Ada, Osudoku, Manya Krobo, Yilo Krobo, Shai, Ningo, Prampram and Kpone.
It is true to say that at Kpone, though a Dangme town, the people speak Ga more than their indigenous language. However, this enigma brought about their close association with the Gas is being solved gradually with the introduction of Dangme as a school subject in the Dangme areas.
The land of these different tribes stretches from the coast northward to the Akwapim hills and has all the Dangbe land on the east and the Ga villages to the west of it.
Bawaleshi, which is about three miles southwest of Dodowa, is the last Dangme town which is close to the Akwapim and the Ga boundaries.
Dangme is a total language and changes in meanings of words may be brought about by tonal differences.
It is not expected, however, that one can learn Dangme through this little guide book; but it is hoped that it will help the learner to find his or her way about in the Dangme areas with the least amount of difficulty.
₵13.00
Only 1 left in stock