You are previewing:

Heart of Darkness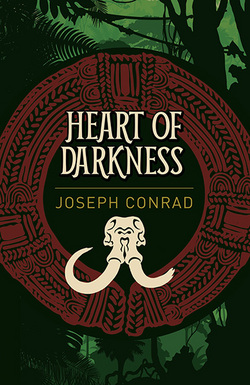 Heart of Darkness
Heart of Darkness
Heart of Darkness tells the story of Charles Marlow, an English man who journeys into the African jungle. The difference between Conrad's novella and other classic adventure fictions, like Defoes Robinson Crusoe, is that Heart of Darkness goes beyond classic motifs of discovery and exploration to explicitly deal with questions of racism, exploitation and colonization.
Marlow's mission in the story is to transport ivory and to take Kurtz, an experienced ivory trader, back to Europe. The events in the African jungle are sandwiched by two scenes aboard a ship anchored in the Thames where Marlow reveals the details of his adventures to a group of friends. The darkness of the bloody happenings that Marlow witnesses during his journey parallels the fall of dusk on the Thames as the story is being told.
In Africa, Marlow is mainly disgusted with white men's shallowness and mischievous behavior with natives. The readers ultimately understand that the darkness of the title does not only stand for the horrors in the African wilderness, but mainly for the cruelty of the colonizers heart. Indeed, the symbolism of Heart of Darkness centers around the mystery of human inclination towards wickedness.
GHS 10 to deliver within Accra and Tema and GHS 20 to deliver outside Accra and Tema.
Joseph Conrad (born Józef Teodor Konrad Korzeniowski ) was a Polish-born English novelist who today is most famous for Heart of Darkness, his fictionalized account of Colonial Africa.
Conrad left his native Poland in his middle teens to avoid conscription into the Russian Army. He joined the French Merchant Marine and briefly employed himself as a wartime gunrunner. He then began to work aboard British ships, learning English from his shipmates. He was made a Master Mariner, and served more than sixteen years before an event inspired him to try his hand at writing.
He was hired to take a steamship into Africa, and according to Conrad, the experience of seeing firsthand the horrors of colonial rule left him a changed man.
Joseph Conrad settled in England in 1894, the year before he published his first novel. He was deeply interested in a small number of writers both in French and English whose work he studied carefully. This was useful when a need to come to terms with his experience lead him to write Heart of Darkness, in 1899, which was followed by other fictionalized explorations of his life.
He has been lauded as one of the most powerful, insightful, and disturbing novelists in the English canon despite coming to English later in life, which allowed him to combine it with the sensibilities of French, Russian, and Polish literature.