You are previewing:

Education, Literacy and Governance: A Linguistic Inquiry into Ghana's Burgeoning Democracy (The J.B. Danquah Memorial Lecture, Series 39; 2006)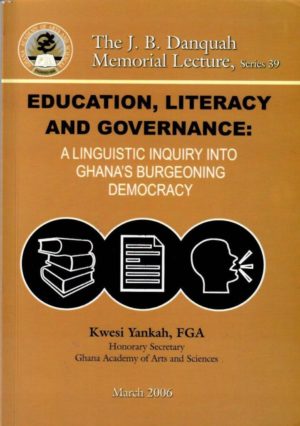 Education, Literacy and Governance: A Linguistic Inquiry into Ghana's Burgeoning Democracy (The J.B. Danquah Memorial Lecture, Series 39; 2006)
Education, Literacy and Governance: A Linguistic Inquiry into Ghana's Burgeoning Democracy (The J.B. Danquah Memorial Lecture, Series 39; 2006)
Lectures delivered by Professor Kwesi Yankah. Delivered in March, 2006.
Lecture 1: Free Speech, Censorship and the Language Dilemma in Public Policy
Lecture 2: Krobo Edusei and the Paradigm of Street Wisdom in Contemporary Governance
Lecture 3: The Tongue, The Thumb and The Ballot Box
₵15.00
In stock
SKU:

BK930
Categories: Academic papers, African Authors, Author Origin, Education & Teaching, Ghana, Reference, Science & Math
Tags: 2006, Education, GAAS, Ghana Academy of Arts and Sciences, J.B. Danquah Memorial Lectures, Kwesi Yankah, Literacy and Governance: A Linguistic Inquiry into Ghana's Burgeoning Democracy (The J.B. Danquah Memorial Lecture Series 39)
Kwesi Yankah is the author of two award winning books: Speaking for the Chief, which won the Ghana Academy of Arts and Sciences Gold Book award and The Proverb in the Context of Akan Rhetoric, winner of the Ghana Book Award. The latter was based on his award-winning doctoral dissertation at Indiana University, USA, 1985. He also co-edited African Folklore: An Encyclopedia.
Yankah has held fellowships at several universities including, Stanford, Northwestern, Michigan, Berkley, Pennsylvania and Birmingham. He was from 2009 to 2017 an Associate Director of the African Humanities Program, established by the American Council of Learned Societies.
Between 2017 and 2021 he was Ghana's Minister of State in Charge of Tertiary Education.
Yankah is a fellow of the American Academy of Arts and Sciences, the Ghana Academy of Arts and Sciences and the American Folklore Society.