You are previewing:

Crayon Animal Colouring (Little Sage Activity Book)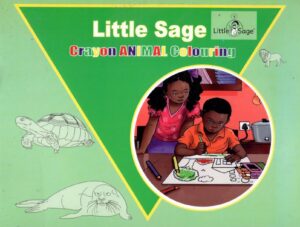 Crayon Animal Colouring (Little Sage Activity Book)
Crayon Animal Colouring (Little Sage Activity Book)
Age Range: 3 – 6 years
Little Sage Activity Books are designed to start children on the right path to a lifetime of reading, counting and writing.
The books are designed to be engaging and to hold the short attention span characterised by children of this age group.
Research has shown that children learn faster and well when they are enjoying themselves.
We reward children with stickers not just for a completed right answer but for effort; this is to encourage teamwork and build confidence, necessary for the journey through life.
₵32.00
Out of stock
SKU:

BK3769
Categories: Action & Adventure, Activities, Crafts & Games, Activity book, African Authors, Age Range, Ages 3-5 years, Ages 6-8 years, Author Origin, Children & Teens, Early Childhood Education, Education & Teaching, Ghana, Illustrated books, Pre-school
Tags: Activity books, Colour and Learn, Colouring, Crayon Animal Colouring (Little Sage Activity Book), Little Sage Activity Book, Samelia Bawuah, Textbook, Textbooks
Samelia has always been an avid reader. She has been reading since she was three years old, hence her complete understanding of what young people enjoy reading.
Having had the opportunity to go to school in Ghana, United States of America and Britain, she has had the opportunity to experience other cultures apart from her own. On her numerous travels, she came to the realization that kids all over the world are the same; they have the same dreams and aspirations and picking up a book can transport them just about anywhere they want to go.
Happy Reading with Samelia.
Customers Also Bought These