You are previewing:

Be Careful What You Wish For (The Clifton Chronicles #4)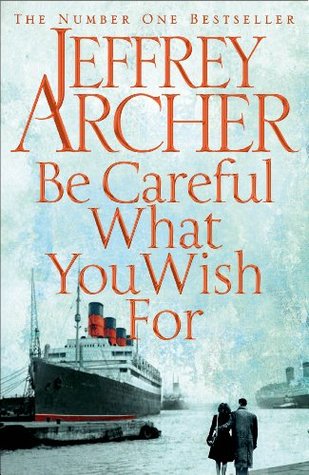 Be Careful What You Wish For (The Clifton Chronicles #4)
Be Careful What You Wish For (The Clifton Chronicles #4)
Be Careful What You Wish For opens with Harry Clifton and his wife Emma rushing to hospital to learn the fate of their son Sebastian, who has been involved in a fatal car accident. But who died, Sebastian or his best friend Bruno? When Ross Buchanan is forced to resign as chairman of the Barrington Shipping Company, Emma Clifton wants to replace him. But Don Pedro Martinez intends to install his puppet, the egregious Major Alex Fisher, in order to destroy the Barrington family firm just as the company plans to build its new luxury liner, the MV Buckingham. Back in London, Harry and Emma's adopted daughter wins a scholarship to the Slade Academy of Art where she falls in love with a fellow student, Clive Bingham, who asks her to marry him. Both families are delighted until Priscilla Bingham, Jessica's future mother-in-law, has a visit from an old friend, Lady Virginia Fenwick, who drops her particular brand of poison into the wedding chalice. Then, without warning, Cedric Hardcastle, a bluff Yorkshireman who no one has come across before, takes his place on the board of Barringtons. This causes an upheaval that none of them could have anticipated, and will change the lives of every member of the Clifton and Barrington families. Hardcastle's first decision is who to support to become the next chairman of the board: Emma Clifton or Major Alex Fisher? And with that decision, the story takes yet another twist that will keep you on the edge of your seat.
₵55.00
Out of stock
SKU:

BK3129
Categories: Action & Adventure, Author Origin, Detective, European Authors, Historical Fiction, Literature & Fiction, Mystery, Thriller & Suspense, Spies & Politics
Tags: Be Careful What You Wish For, Jeffrey Archer, Thriller
Jeffrey Archer has topped the bestseller lists around the world, and is the only author ever to have been a number one bestseller in fiction (nineteen times), short stories (four times) and non-fiction (The Prison Diaries). He was born in London, and brought up in the West Country.
He gained a Blue in Athletics at Oxford, was President of the University Athletics Club, and went on to run the 100 yards in 9.6 seconds for Great Britain in 1966. Jeffrey has served five years in the House of Commons as a Member of Parliament, and twenty-six years as a Member of the House of Lords.
He has written 22 novels, 7 sets of short stories, 3 prison diaries, 3 plays (all of which have been performed in London's West End) and a gospel. His first novel, Not a Penny More, Not a Penny Less was sold to 17 countries within a year. It was also made into a successful serial for BBC Radio 4, and was later televised in 1990 by the BBC. He won the Prix Relay du Roman d'Évasion, a prize that rewards a novel in which readers can 'escape from everyday life', for his novel Paths of Glory, and the Prix Polar International Prize for the best international thriller of the year, for his novel A Prisoner of Birth.
The Clifton Chronicles, a series of seven novels published between 2011-2017 topped the bestseller lists around the world. His latest book of short stories, TELL TALE, is published in paperback in April 2018, and his next novel, HEADS YOU WIN, will be published in November.
Jeffrey is also an amateur auctioneer, conducting around 20 charity auctions a year. He has been married to Dame Mary Archer, Chairman of the Science Museum Group, for 52 years.