You are previewing:

A Monster of a Mystery (Hardy Boys, The Secret Files #5)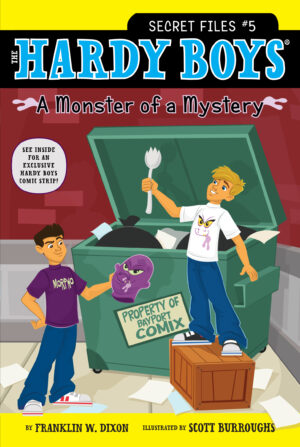 A Monster of a Mystery (Hardy Boys, The Secret Files #5)
A Monster of a Mystery (Hardy Boys, The Secret Files #5)
Age Range: 6 – 12 years
When the actor who plays popular comic character Morpho the Morph Monster comes to town for a fan day–along with his famous Morpho Mask and Morph Spork–everyone, including Frank and Joe, is excited to meet the man behind the mask. But at the event, Morpho's Spork goes missing! And until the Spork is returned, the entire event will be put on hold! It's up to Frank and Joe to crack the case–and return the Spork to its rightful owner!
₵40.00
Out of stock
SKU:

BK4100
Categories: 9-12 years, Action & Adventure, Age Range, Ages 6-8 years, Author Origin, Book Sets, Children & Teens, Children Classics, Illustrated books, Literary Fiction, Literature & Fiction, Mysteries & Detective Stories, US/Canadian Authors, Young Reader
Tags: A Monster of a Mystery, Franklin W Dixon, Hardy Boys, The Secret Files
Franklin W. Dixon is the pen name used by a variety of different authors (Leslie McFarlane, a Canadian author, being the first) who wrote The Hardy Boys novels for the Stratemeyer Syndicate (now owned by Simon & Schuster). This pseudonym was also used for the Ted Scott Flying Stories series.
Customers Also Bought These