You are previewing:

Writing Book – The Alphabet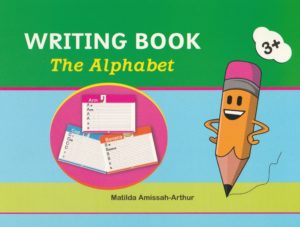 Writing Book – The Alphabet
Writing Book – The Alphabet
Age Range: 3+

Writing is an activity that must be taught well. Children must be taught how to write step by step. They must first be taught to trace on broken lines or dots.
In this writing book, children will learn how to write by tracing on broken lines, on dots and then by copying.
Writing can be fun.
Enjoy your first steps in writing.
₵18.00
SKU:

BK3159
Categories: Activities, Crafts & Games, Activity book, African Authors, Age Range, Ages 3-5 years, Alphabet, Author Origin, Baby - 2 years, Basic Concepts, Children & Teens, Early Childhood Education, Education & Teaching, Ghana, Illustrated books, Pre-school
Tags: Activity books, Matilda Amissah-Arthur, The Alphabet, Writing
Matilda Amissah-Arthur is a retired professional librarian who has worked with the public library, the Balme Library, University of Ghana and the British Council. She currently runs an NGO, BREAKING THE MYTH.
She has consulted for USAID Ghana, DFID, the Ministry of Education, local and foreign publishers.
As the wife of the former Vice President, Mr. Kwesi Amissah-Arthur, she was very active, promoting literacy, setting up libraries and championing the cause of the disadvantaged and donating hospital supplies to clinics and hospitals throughout the country.
She spends her time writing children's books and working with the bereaved: widows, widowers and their children, to help them find purpose through their pain.