You are previewing:

Wo Gyegyiregye (Akuapem Twi)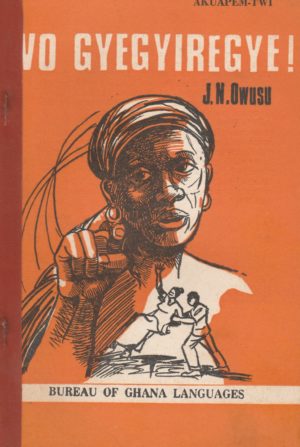 Wo Gyegyiregye (Akuapem Twi)
Wo Gyegyiregye (Akuapem Twi)
Nimako, the main character in the story, disregards all tradition and marries Nsonowaa, in church, rejecting his parents' preference for Sɛɛwaa. For a time, things seem to go well. Then it happens: Nimako gets into heavy debt as a result of their showy and expensive wedding and, harassed by creditors, is forced to move to Accra.
But things take a worse turn: Nimako's wife finds a new lover in Mr. Boadi resulting in the breakup of her marriage with Nimako.
Back home, Sɛɛwaa is married to Mr. Yaamoa, a prosperous farmer. Harsh realities force Nimako to return to Dwenase, his hometown. Nimako uses his experience and initiative to mobilise the villagers to better their standard of living and thereby wins the respect of all. Nimako comes round to respect the tradition of his people and, with his parents' blessing, is customarily married to the now-divorced Sɛɛwaa. They then live happily ever after.
₵15.00
Only 1 left in stock
SKU:

BK2846
Categories: African Authors, Akan, Akuapim Twi, Author Origin, Contemporary Fiction, Ghana, Language Instruction, Languages, Literature & Fiction
Tags: Akuapem Twi, Bureau of Ghana Languages, J.N. Owusu, Wo Gyegyiregye!