You are previewing:

Tales Of An Odadeɛ: Recollections Of Events & 'Tolis' In Presec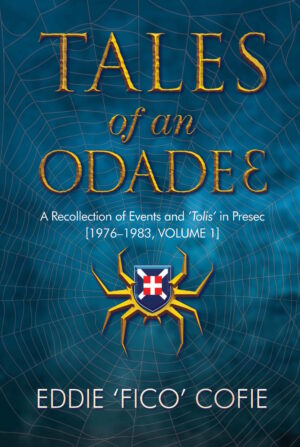 Tales Of An Odadeɛ: Recollections Of Events & 'Tolis' In Presec
Tales Of An Odadeɛ: Recollections Of Events & 'Tolis' In Presec
Tales Of An Odadeɛ is a compilation of forty two events and humor laden boarding school life experiences that occurred at the Presbyterian Boys' Secondary School, Legon between 1976 and 1983.
Craftily and well woven, these anecdotal stories and events that takes minds down memory lane, resonate with alumni and students of other schools as each school had similar stories that creates nostalgic feelings. Meant for pure comic relief, these stories bring to the fore teenage mischievous and prankster behaviours.
Eddie Cofie attended the Presbyterian Secondary School (PRESEC) from 1976 to 1983. He holds a Bsc (Hon) Land Economy Degree from University Of Science &Technology Kumasi, Ghana and a MBA (Finance & Investments) degree from City University Of New York Baruch College's Zicklins School Of Business.
An Assistant School Prefect in his Presec days, Eddiefico - as he is affectionately called by friends - has with great passion been in the forefront of resurgence of the alumni association and was instrumental in the early 1990s with its revitalization. He is currently the Organizer of the North American Chapter and Deputy Director of the global Alumni Communication Directorate.
He lives in New York City with his family.