You are previewing:

Labour Law in Ghana: An Essential Guide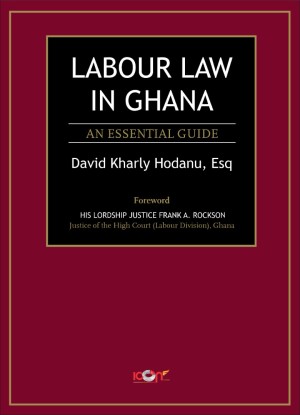 Labour Law in Ghana: An Essential Guide
Labour Law in Ghana: An Essential Guide
This text is specifically designed to provide an essential guide to the labour law of Ghana. It is a very comprehensive text, covering all aspects of this area of the law, including the distinction between contract of service and contract for services, formation of the contract of employment, termination of the contract of employment, the rights and duties of employers and workers, dismissal of an employee, the distinction between the terms 'termination' and 'dismissal', as used in the context of employment, strikes as legitimate weapons in the hands of employees/workers and lockouts as legitimate weapons in the hands of employers, occupational health and safety, retirement and pensions and workmen's compensation.
The author presents the material in a very simple, straightforward and logically coherent manner and this makes reading the text very fascinating. It is an essential resource for all those seeking to get to grips with this fascinating area of law. Lawyers, Judges, HR Practitioners, Trade Union Leaders, Employers and Workers or Employees will find this text an invaluable resource. Lecturers and students of labour law will also find this text very useful as it fully and thoroughly covers the syllabus requirements of the LLB Laws, BA Human Resource Management, MBA Human Resources and related courses.
₵500.00
In stock (can be backordered)
SKU:

BK6104
Categories: Academic papers, African Authors, African Biographies, Author Origin, Biographies & Memoirs, Business, Finance & Law, Education & Teaching, Ghana, Historical, Labor & Industrial Relations, Law, Law Textbooks, Lawyers & Judges, Leaders & Notable People, Politics & Government, Professionals & Academics, Reference, Tertiary Textbooks, Textbooks
Tags: Common Law, David Kharly Hodanu, Ghana Law, Icon Publishing Ltd, Labour Law, Labour Law in Ghana: An Essential Guide, Law, Law of Torts, Torts
The author of this text is a lawyer and a teacher. He has substantial knowledge and expertise in labour law, having been researching and teaching labour law at the tertiary level for the past twelve years, albeit on a part-time basis. He works whole-time as a State Attorney in the Office of the Attorney-General, Koforidua. He is of the rank of Principal State Attorney.
In his work as a State Attorney, he has successfully defended the Attorney-General as a defendant in a number of labour-related lawsuits.
His colleague lawyers also fall on him from time to time to seek his opinion on some aspects of the labour law.