You are previewing:

Dungeons & Detectives (Hardy Boys Adventures #19)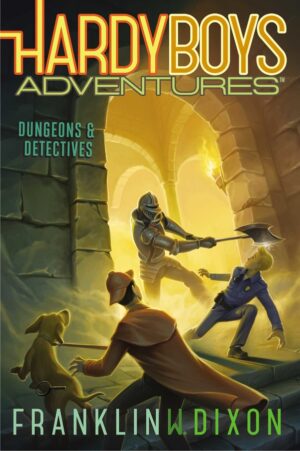 Dungeons & Detectives (Hardy Boys Adventures #19)
Dungeons & Detectives (Hardy Boys Adventures #19)
Age Range: 8 – 12 years
Brother detectives Frank and Joe search a hidden castle for clues to help them find a missing comic book in the nineteenth book in the thrilling Hardy Boys Adventures series.
Frank and Joe have been hanging out at Sir Robert's Comic Kingdom, the local comic and gaming shop, and got the exclusive invite to this year's Halloween costume ball at Bayport's one and only castle. Sir Robert plans to use the big event to unveil his most prized possession, a super rare comic that is rumored to contain a map to buried treasure.
Sir Robert agrees to show his store regulars—who now include Frank and Joe—a sneak preview of the comic before the party. But when he goes to unlock the fireproof casing, he finds the book is gone.
It will take all of Frank and Joe's recently acquired LARPing skills to solve this case. Anything can happen in a castle full of dungeons and deception. Can the Hardy boys keep up?
₵40.00
Out of stock
SKU:

BK4081
Categories: Action & Adventure, Author Origin, Book Sets, Children & Teens, Children Classics, Illustrated books, Literary Fiction, Literature & Fiction, Mysteries & Detective Stories, US/Canadian Authors, Young Reader
Tags: Dungeons & Detectives (Hardy Boys Adventures #19), Franklin W Dixon, Hardy Boys, Hardy Boys Adventures
Franklin W. Dixon is the pen name used by a variety of different authors (Leslie McFarlane, a Canadian author, being the first) who wrote The Hardy Boys novels for the Stratemeyer Syndicate (now owned by Simon & Schuster). This pseudonym was also used for the Ted Scott Flying Stories series.
Customers Also Bought These