You are previewing:

Dork Diaries: Spectacular Superstar (Dork Diaries #14)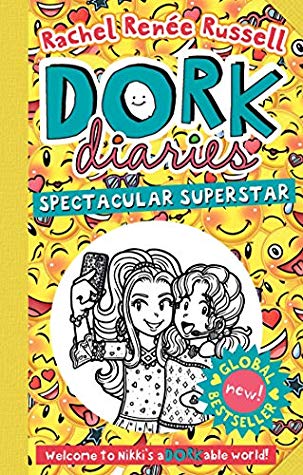 Dork Diaries: Spectacular Superstar (Dork Diaries #14)
Dork Diaries: Spectacular Superstar (Dork Diaries #14)
Age Range: 9 – 13 years
Nikki Maxwell, Queen of the Dorks, is back in the fourteenth instalment of the NYT bestselling series!
Nikki Maxwell and her bandmates are looking forward to an awesome time on tour as the opening act for the world-famous Bad Boyz! The only downside? Nikki's frenemy, Mackenzie Hollister has weaseled her way onto the tour as a social media guru…..
Nikki is determined to stay out of Mackenzie's way to avoid any drama, but then she learns that Mackenzie is going to be her roommate! TOTAL DISASTER! Will Nikki survive her dream tour as it quickly goes from AWESOME to AWFUL?
₵65.00
Out of stock
SKU:

BK3132
Categories: 9-12 years, Age Range, Author Origin, Children & Teens, Comics & Graphic Novels, Friendship, Growing Up & Facts of Life, Humorous Fiction, Illustrated books, Teens, US/Canadian Authors, Young Adult Fiction
Tags: Dork Diaries, Rachel Renée Russell
Rachel Renée Russell is a #1 New York Times Best Selling author and attorney who prefers writing children's books to legal briefs. The Dork Diaries series has received two Children's Choice Awards For Book of the Year (5th/6th Grade Division) and a Nickelodeon Kid's Choice Award nomination for Best Book. Rachel was the recipient of the 2014 Milner Award For Children's Literature.
The series has sold over 30 million copies with translation into 36 languages worldwide. Movie rights have been optioned by Lionsgate Summit films. Rachel resides in Northern Virginia.