You are previewing:

Bediako (Asante Twi)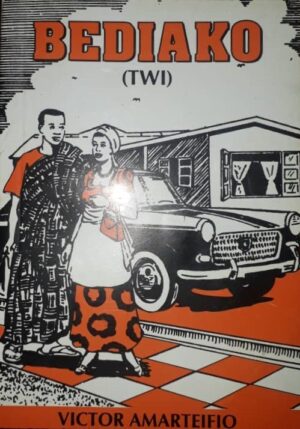 Bediako (Asante Twi)
Related Products
Customers Also Bought These
Bediako (Asante Twi)
Nhoma Bediako yi yɛ ayɛsɛm a efa aberante Kwasi Bediako abrabɔ mu nsɛm ho. Kwasi yɛ obi a n'awofo de Onyamesuro ne ɔdɔ tetew no. Osii so no, ɔwaree ababaa fɛfɛ bi a odwo na ɔbɔ ne ho mmɔden yiye nso ne no tenaa ɔdɔ ne asomdwoee mu.
Sika kakra baa Bediako nsam no, ofii ase bɔ fekuw bɔne. Ɔpam ne yere a ɔne no fii ɔbra ase no kɔfaa sɛbe, ɔbea kohwini bi betoo ne ho so. Ankyɛ Kwasi Bediako nyaa amanne kopuee Nkran afiase. Ne ho fii asɛm no mu no, Kwasi siim sɛ ɔrekɔ Abigyan akɔpɛ paa bi adi wɔ hɔ nanso abɛbrɛsɛ a ɛtoo no ɔkwan mu no amma wankodu hɔ. Ode ne ho kaa wura kɔtenaa Sahwi kwae mu baabi yɛɛ kua. Ɛho nso n'adwuma yɛɛ ɔkwa enti ɔsan n'akyi baa fie. Ɔbra ne Kwasi dii no nwenweennwen nanso akyiri yi na Bediako bɛdan ɔdefo kase.
Wotintim nhoma yi nea edi kan no, wɔn a wɔhwɛ Ɔman yi adesua so ne akyerɛkyerɛfo pii nyaa ayɛsɛm yi ne ne kyerɛw ho anigye mmoroso. Ne saa nti,wɔpaw Bediako se nhoma a ɛsɛ se sukuufo sua de yɛ 'G.C.E.' Twi sɔhwɛ. Nhoma yi mu nsɛm yɛ huam enti ebɛsi nnɛ dodow biara a wobetintim no nso to koraa. Eyi ama Owura Amarteifio asiesie nhoma dedaw no asesa mu ayɛ no kɛse kakra ama wɔatintim pii. Nhoma foforo no ni. Nokwa, Bediako yɛ nhoma a ɛsɛ se obiara to bi to ne sumii ase.
₵24.00
Only 2 left in stock (can be backordered)
SKU:

BK4158
Categories: African Authors, Akan, Asante Twi, Author Origin, Children Classics, Ghana, Language Instruction, Languages, Literary Fiction, Poetry
Tags: Asante Twi, Bediako (Asante Twi), Bediako the Adventurer, Victor Amarteifio
Customers Also Bought These