You are previewing:

Vanity Fair (FingerPrint! Classics)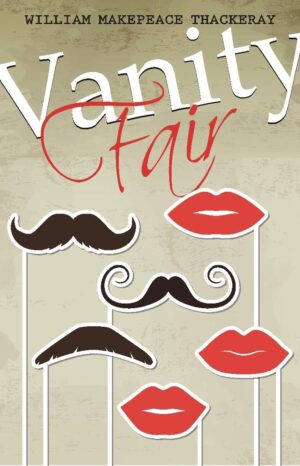 Vanity Fair (FingerPrint! Classics)
Vanity Fair (FingerPrint! Classics)
"All is vanity, nothing is fair."
A ruthless social climber, Becky Sharp is scheming and deceitful. Orphaned when young, she has desired wealth and social security above everything. Engaged as a governess at Sir Pitt Crawley's house, Becky secretly marries his son, Captain Rawdon Crawley.
Wealthy and warm-hearted, Amelia Sedley is her complete opposite. All that she has ever longed for is the stunning and egotistic Captain George Osborne—her childhood sweetheart—whom she marries against her father's wishes.
As the lives of the two women unfold
against the backdrop of the Battle of Waterloo,
what does fate has in store for them?
A brilliant satire on the nineteenth-century English society, William Makepeace Thackeray's Vanity Fair was listed on the BBC's the Big Read poll of UK's best-loved books. a timeless classic, it has been an inspiration for numerous adaptations across various art forms.
₵40.00
Out of stock
SKU:

BK4284
Categories: Action & Adventure, Activities, Crafts & Games, Animals, Author Origin, Book Sets, Children & Teens, Children Classics, Classics, Contemporary Fiction, Education & Teaching, European Authors, Family, Family Saga, Genre Fiction, Growing Up & Facts of Life, Historical Fiction, Illustrated books, Literary Fiction, Literature & Fiction, Teens, Young Adult Fiction
Tags: FingerPrint Classics, Vanity Fair, William Makepeace Thackeray
William Makepeace Thackeray was born in Calcutta in July 1811. Though he was never keen in academics, Thackeray had the benefits of Charterhouse and Cambridge. He began writing and turned to journalism to support his family. He produced art criticisms and fictional works for Fraser's Magazine, reviewed books for the Times and was a regular contributor to the Morning Chronicle and the Foreign Quarterly Review. Thackeray worked as a journalist throughout his life.
His success as a novelist began with the publication of Vanity Fair (1847-48) when he was thirty-six. The novel is a brilliant satire on the nineteenth-century English society. In the decade following the publication of Vanity Fair, Thackeray published a number of works including Pendennis (1848-50), the History of Henry Esmond (1852), the Newcomes (1855), the Rose and the Ring (1855) and the Virginians (1857-59). A historical novel, the Virginians was his last considerable novel.
Thackeray suffered a stroke and was found dead in his bed on the morning of December 24, 1863. He was buried at Kensal Green Cemetery on December 29.
Customers Also Bought These