You are previewing:

Typhoon Island (The Hardy Boys #180)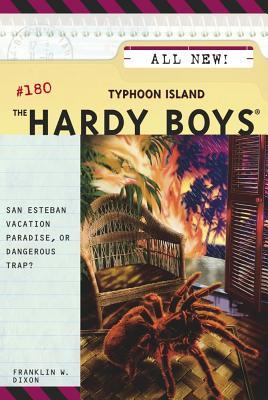 Typhoon Island (The Hardy Boys #180)
Related Products
Customers Also Bought These
Typhoon Island (The Hardy Boys #180)
Age Range: 8 – 12 years
A Fantastic Vacation Becomes A Fight For Life
Visiting San Esteban is supposed to be a vacation for Frank and Joe Hardy and their friends, but it doesn't take long for them to realize that the island is no paradise. Some of the local inhabitants aren't very friendly to tourists, and the island itself is crawling with dangerous wild animals — some of which take up residence in the Hardys' bungalow.
As if this isn't enough to worry about, someone starts dogging the Hardys every step of the way. Is this person responsible for most of the "bad luck" they've had? Not even the worst villain, though, could arrange the typhoon that turns all of San Esteban into a death trap. Can the Hardys solve the mystery of Typhoon Island before they're wiped off the map?
₵40.00
Out of stock
SKU:

BK4560
Categories: 9-12 years, Action & Adventure, Age Range, Ages 6-8 years, Author Origin, Book Sets, Children & Teens, Children Classics, Illustrated books, Literary Fiction, Literature & Fiction, Mysteries & Detective Stories, Teens, US/Canadian Authors, Young Reader
Tags: Franklin W Dixon, Hardy Boys, Typhoon Island, Typhoon Island (The Hardy Boys #180)
Franklin W. Dixon is the pen name used by a variety of different authors (Leslie McFarlane, a Canadian author, being the first) who wrote The Hardy Boys novels for the Stratemeyer Syndicate (now owned by Simon & Schuster). This pseudonym was also used for the Ted Scott Flying Stories series.
Customers Also Bought These