View cart
"Bukom" has been added to your cart.
You are previewing:

Twitterature: The World's Greatest Books Retold Through Twitter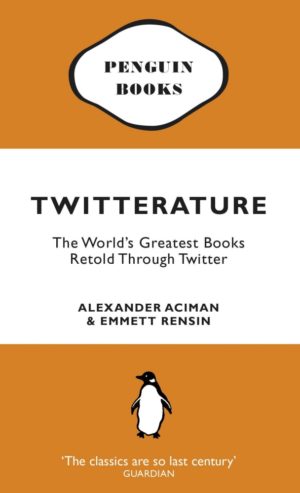 Twitterature: The World's Greatest Books Retold Through Twitter
Twitterature: The World's Greatest Books Retold Through Twitter
Everything from Beowulf to Brontë rewritten/ruined in twenty Tweets or less in Twitterature, the hilarious expression of every book-lovers' fear of the digital age, by Alexander Acima and Emmett Rensin.
From Oedipus: PARTY IN THEBES!!! Nobody cares I killed the old dude, plus this woman is all over me. Total MILF.
From Paradise Lose: OH MY GOD I'M IN HELL.
Perhaps you once asked yourself, 'What exactly is Hamlet trying to tell me? Why must he mince his words, muse in lyricism and, in short, whack about the shrub?'
No doubt such troubling questions would have been swiftly resolved were the Prince of Denmark a registered user on Twitter.com. This, in essence, is Twitterature.
From Hamlet: WFT IS POLONIUS DOING BEHIND THE CURTAIN???
Here you will find over sixty of the greatest works of western literature – from Beowulf to Brontë, from Kafka to Kerouac, and from Dostoevsky to Dickens – each distilled through the voice of Twitter to its purest, pithiest essence.
Including a full glossary of online acronyms and Twitterary terms to aid the amateur, Twitterature provides everything you need to master the literature of the civilized world, while relieving you of the burdensome task of reading it.
From Dante's Inferno: I'm havin' a midlife crisis. Lost in the woods. Shoulda brought by iPhone.
'Hilarious' Sunday Times
'Wittily irreverent, scandalous, but sure to inspire a cult following' Daily Mail
'An irreverent, profane and sometimes brilliant collection' Reuters
'The trouble with Twitter is, I think, that too many twits might make a tw*t' David Cameron
'A tool to aid the digestion of great literature' Guardian
'This is exactly the kind of thing you'd expect University of Chicago students to come up with' Professor W J T Mitchell
Alexander Aciman and Emmett Rensin are undergraduates at the University of Chicago. Alexander's journalism has appeared in The New York Times and New York Sun and Emmett is a contributor to the Huffington Post.