View cart
"Voice in the Forest Audiobook (CD): Efua T. Sutherland & Abena Busia" has been added to your cart.
You are previewing:

The War Next Door (Storey Street #3)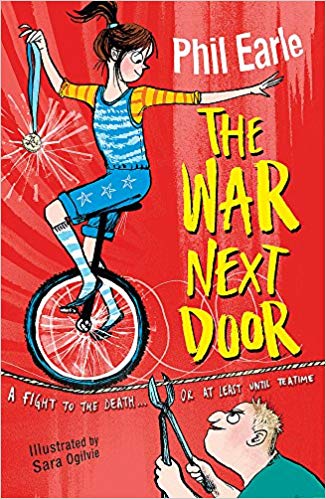 The War Next Door (Storey Street #3)
The War Next Door (Storey Street #3)
Age Range: 9 – 12 years
The third hilarious children's novel from Demolition Dad and Superhero Street author Phil Earle, illustrated by Waterstones Children's Book Prize shortlisted artist, Sara Ogilvie. Perfect for fans of Roald Dahl, Liz Pichon and David Walliams.
Masher is the bully of Storey Street. No one ever dares stand up to him and that's the way he likes it. But then Jemima and her family move into the plot of land next door. Jemima isn't afraid of him at all, and she's making him look like a bit of a wimp. To Masher, that just means one thing: war. (At least until teatime…)
Phil was born in Hull in 1974, and he studied English and Drama at Hull University. He worked for a year as a carer in a children's home, then after training as a drama therapist, he worked in a therapeutic community in London, which cared for multiply abused adolescents. Then, changing tack completely, he chose a marginally more sedate life as a children's bookseller. It was here that he developed an obsession for kid's literature, in particular, young adult fiction.
After three years at Ottakar's, he became a sales rep, and then a key account manager for Transworld/Random House, and is now sales director at Simon and Schuster Children's Books.
Phil lives in South East London with his wife and three young children.
SARA OGILVIE is one of Booktrust's Best New Illustrators. She studied Illustration and Printmaking at Edinburgh College of Art and now lives in Newcastle Upon Tyne.