You are previewing:

The Long Haul (Diary of a Wimpy Kid #9)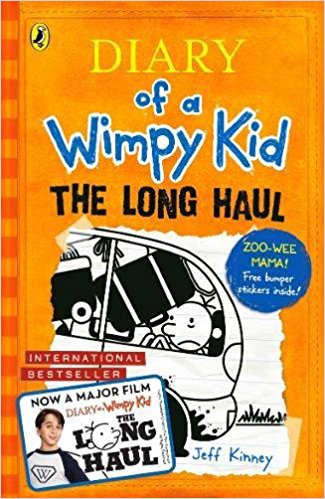 The Long Haul (Diary of a Wimpy Kid #9)
The Long Haul (Diary of a Wimpy Kid #9)
Age Range: 8 – 12 years
Jeff Kinney has brought Greg Heffley back for the ninth instalment of his bestselling Diary of a Wimpy Kid series.

This time, the Heffleys are off on a road trip! The chances of survival are… quite small to be honest.
If I had to guess, I'd say 90% of everything we do as a family comes from ideas Mom gets from that magazine. And when I saw the latest issue I knew it was gonna get Mom's wheels turning.
When Greg's mom decides the family are going to have an 'authentic experience' this summer on a family road trip, Greg is less than excited.
All the Heffley's trapped in a minivan for miles and miles… it spells disaster.
And when Greg has to battle petrol-station bathrooms, crazed seagulls, a fender bender and a runaway pig, it seems he was right to be worried.
This is one adventure the Heffleys won't forget!
Reluctant and avid readers of 7+ can't get enough of Greg and the disasters that follow him around!
Jeff Kinney is a #1 New York Times bestselling author and four-time Nickelodeon Kids' Choice Award winner for Favorite Book. Jeff has been named one of Time magazine's 100 Most Influential People in the World. He is also the creator of Poptropica, which was named one of Time's 50 Best Websites. He spent his childhood in the Washington, D.C., area and moved to New England in 1995. Jeff lives with his wife and two sons in Plainville, Massachusetts, where he owns a bookstore, An Unlikely Story.