You are previewing:

The Equatorial Assignment (Pacesetters)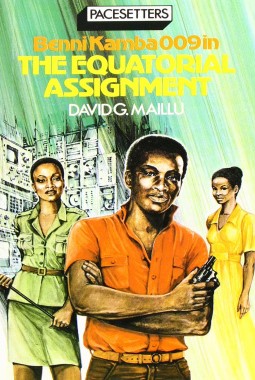 The Equatorial Assignment (Pacesetters)
Related Products
Customers Also Bought These
The Equatorial Assignment (Pacesetters)
The newly appointed Benni Kamba, 009 in the secret service of NISA, risks his life to destroy an international Afro-Mafia organization which is trying to rule all African by planting puppet Presidents in every state. They are led by the megalomaniac Dr Thunder. 009 falls victim to the beautiful Colonel Swipta. His true love is almost forgotten as he penetrates the base from which she and Dr. Thunder operate.
₵60.00
Out of stock
SKU:

BK6351
Categories: 9-12 years, African Authors, African Novels, Age Range, Author Origin, Best Seller, Children & Teens, Classics, Contemporary Fiction, Kenya, Literary Fiction, Literature & Fiction, Novels, Teens, Young Adult Fiction, Young Reader
Tags: A Fresh Start, A. Mhlope, Agbo Areo, Agony in Her Voice, Andrew Sesinyi, Anthony Kwamlah Johnson, Barbara Kimenye, Ben Mtobwa, Bittersweet, Bonds of Love, Chuma Nwokolo, Circle of Betrayal, Classics, Damian Asabuhi, Danger Express, Dangerous Inheritance, David G. Maillu, David Msere, Dead Of Night, Dede Kamkondo, Finding Francis, For Better For Worse, Forever Yours, Forgive Me Maryam, Give Me Money, Gladstone Meena, Helen Ovbiagele, Hope Dube, James Irungu, James Shimanyula, Kalu Okpi, Kenneth Rowley, Kwasi Koranteng, love, Love on the Rocks, Love's Dilemma, Maurice Sotabinda, Mohammed Sule, Mohmed Tukur Garba, Moses and the Gunman, Omondi Mak'oloo, On The Road, Operation Rhino, Pacesetters, Pacesetters titles, Pains of a Maid, Philip Phil-Ebosie, Remember Death, Richard Anieke, Rita Wooding, Sam A. Adewoye, Sarah Mkhonza, Second-hand Love, Shameful Sacrifice, Small Affairs, Sunset at Noon, Sweet Revenge, The Betrayer, The Camera Never Lies, The Delinquent, The Equatorial Assignment, The Extortionist, The Gun Merchant, The Hopeful Lovers, The Last Aloe, The Runaway Bride, The Worshippers, Thorns of Life, Too Young to Die, Truth will Out, Victor A. Ulojiofor, Victor Thorpe, Walije Gondwe, What The Future Holds, Yema Lucilda Hunter
David Maillu was born in colonial Kenya on 19 October 1939. He went to school at age 12, at a Salvation Army School. After four years, he sat for a national colonial education examination, called Common Entrance Examination after which he joined Intermediate School whereby we sat for the Kenya African Primary Education (KAPE). There would be another examination after two years, called Kenya Junior Secondary Education, then finally the East Africa Cambridge School Certificate examination (The O-Level).
He went to a technical school to Painting and Decorating, which took 3 years. He also enrolled for the British Tutorial College, to study for the High School education. Right from his Intermediate and Technical Schools, he developed passion in African Art, Literature and Sociology.
He is married to a German, Hannelore, from Berlin.
Customers Also Bought These