View cart
"Othello (A Shakespeare Children's Story)" has been added to your cart.
You are previewing:

The Clothes of Nakedness (African Writers Series)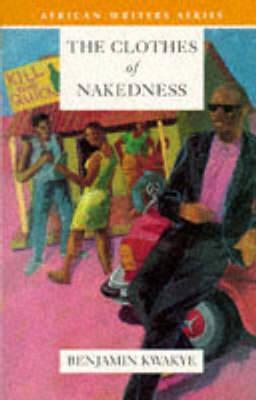 The Clothes of Nakedness (African Writers Series)
The Clothes of Nakedness (African Writers Series)
 Winner of The Commonwealth Writers Prize 1999 and The Commonwealth Writer's Prize Best First Book Africa 1999.
Gabriel Bukari is an out-of-work taxi driver living from hand-to-mouth in a poor suburb of Accra: honest, kind-hearted, and faithful to his wife. When he meets Mystique Mysterious, the 'big man' who can get him a job, he is exposed to temptations he has never faced before.
In this lively portrait of relations between rich and poor in urban Ghana, Benjamin Kwakye explores the seductive power of corruption and shows how ordinary people can be manipulated to make choices which threaten their community life.
₵35.00
Only 1 left in stock
SKU:

BK573
Categories: African Authors, African Novels, Author Origin, Best Seller, Classics, Ghana, Literary Fiction, Literature & Fiction, Novels
Tags: African Novels, African Writers Series, Benjamin Kwakye, Heinemann, The Clothes of Nakedness
Benjamin Kwakye was born in Accra, Ghana and attended the Presbyterian Secondary School in Ghana and Dartmouth College and Harvard Law School in the US. At Dartmouth, he majored in Government (with an emphasis in international relations), spending trimesters in Arles, France and the London School of Economics (LSE). He wrote and published poetry while in college, served as editor of Spirit (a literary journal of the Dartmouth College African American Society) and received the Society's 1990 Senior Honor Roll for outstanding leadership, distinguished service and intellectual and artistic creativity.
His first novel, The Clothes of Nakedness (1998) won the 1999 Commonwealth Writers' Prize for Best First Book (Africa Region) and was adapted for a BBC Radio Play of the Week. His second novel The Sun by Night (2005) won the 2006 Commonwealth Writers' Prize for Best Book (Africa Region).
Kwakye has served as Resident Novelist of Window to Africa Radio and Afriscope Radio with Cyril Ibe, reviewing a number of African and African related titles on the air.
He is a director of The Africa Education Initiative, a non-profit organization dedicated to promoting science education in Africa. He lives near Chicago.