View cart
"Richard Akita Bookset (8 books)" has been added to your cart.
You are previewing:

Public Speaking A to Z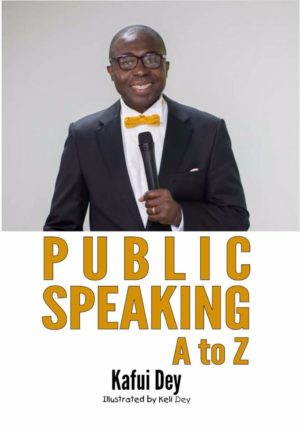 Public Speaking A to Z
Public Speaking A to Z
Kafui Dey is a master of simplicity. In Public Speaking A to Z, he has masterfully woven all the tested principles and practices used by iconic speakers. Corporate executives, university professors, marketing and PR practitioners, studetns and pastors will discover that this book is a significant intervention for impactful stagecraft. ~ Terry Mante, Author/Consultant/Trainer/Speaker
Kafui Dey was born in Burkina Faso in 1971 to Ghanaian parents, grew up in Cote d'Ivoire, China and England and returned to Ghana in 1987. For seventeen years he worked as a translator, pianist, radio presenter, salesman and game show host before deciding in 2012 to become Ghana's first corporate master of ceremonies. His first book, "How To MC Any Event" was published in December 2013.