View cart
"Suma fe Tsadidi (Ewe)" has been added to your cart.
You are previewing:

Kobby's Trolley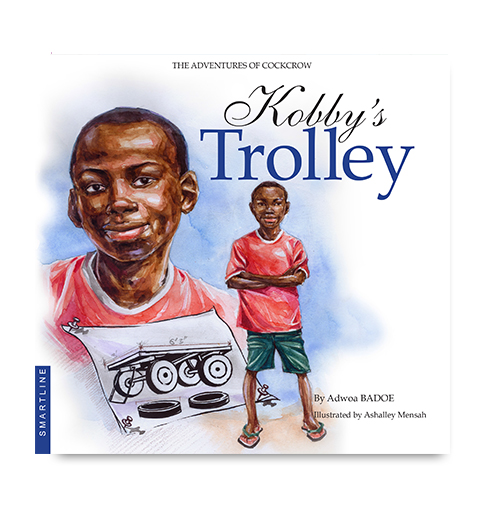 Kobby's Trolley
Kobby's Trolley
Age Range: 8 – 10 years
Kobby wasn't about to let his tiny size keep him from his dream, but Mr. Owusu's mean attitude and his parents' empty pockets certainly weren't helping. Was the dream still worth pursuing, even if all odds were stacked against it? At some point in every person's life, a desire to achieve always arises. The way we deal with the opposing forces is what will shape us for the future.
In Kobby's Trolley, Adjoa Badoe entertains but also urges us to pursue our aspirations…to the very end!
₵15.00
Only 2 left in stock
SKU:

BK448
Categories: 9-12 years, Action & Adventure, African Authors, Age Range, Ages 6-8 years, Author Origin, Children & Teens, Education & Teaching, Ghana, Illustrated books
Tags: Adwoa Badoe, Kobby's Trolley, Smartline Publishers
Dr Adwoa Badoe trained as a physician in her native Ghana but has evolved quite naturally into an African Griot.
She is an author, story teller and teacher of African dance and lives currently in Guelph Ontario. She grew up loving the traditional dances of Ghana, West Africa. Her interest in dance has led her to learn dances from other parts of Africa. Her classes and workshops have a unique and infectious vibrancy, capturing the essence of the people, their celebrations and their lives.
Adwoa's first Childrens book, Crabs for Dinner was published in 1995. Since then she has published The Queen's New Shoes, The Pot of Wisdom (a collection of Ananse Stories) and Nana's Cold Days.
She also writes for markets in Africa through Macmillan Educational and Smartline Publishing: Memuna's Baby, A Wedding Story, Radio Rescue and Street Girls.