You are previewing:

Haunted (Hardy Boys All New Undercover Brothers, Special Ghost Stories Edition!)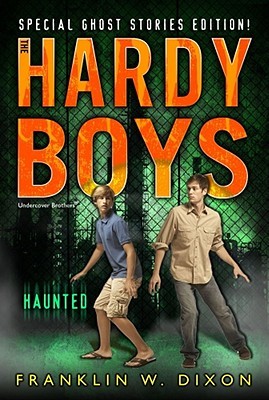 Haunted (Hardy Boys All New Undercover Brothers, Special Ghost Stories Edition!)
Haunted (Hardy Boys All New Undercover Brothers, Special Ghost Stories Edition!)
Age Range: 6 – 12 years
ATAC Briefing for Agents Frank and Joe Hardy:
Special Paranormal Operation
MISSION: Investigate possible supernatural disturbances at the Undercliff House of Detention, formerly an insane asylum in the 1800s.
LOCATION: Juvenile detention center in Glastonbury, CT.
POTENTIAL VICTIMS: Many of the inmates appear to be dying from pure terror!
SUSPECTS: Lara Renner claims to be a psychic with a direct line to the spirit behind the hauntings, but perhaps her motives are more down-to-earth. Then there's the cafeteria worker with a major grudge. Or could it be the culprits are truly ghosts?
₵40.00
Out of stock
SKU:

BK4559
Categories: 9-12 years, Action & Adventure, Age Range, Ages 6-8 years, Author Origin, Book Sets, Children & Teens, Children Classics, Illustrated books, Literary Fiction, Literature & Fiction, Mysteries & Detective Stories, US/Canadian Authors, Young Reader
Tags: Franklin W Dixon, Hardy Boys, Hardy Boys All New Undercover Brothers, Haunted, Haunted (Hardy Boys All New Undercover Brothers Special Ghost Stories Edition!), Special Ghost Stories Edition
Franklin W. Dixon is the pen name used by a variety of different authors (Leslie McFarlane, a Canadian author, being the first) who wrote The Hardy Boys novels for the Stratemeyer Syndicate (now owned by Simon & Schuster). This pseudonym was also used for the Ted Scott Flying Stories series.
Customers Also Bought These