View cart
"A Frog Named Korkoli" has been added to your cart.
You are previewing:

Dog Days (Diary of a Wimpy Kid #4)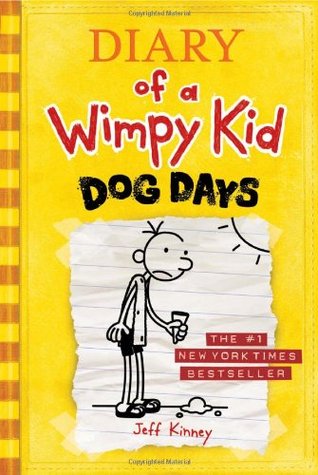 Dog Days (Diary of a Wimpy Kid #4)
Dog Days (Diary of a Wimpy Kid #4)
Age Range: 8 – 12 years
It's the summer, and we're back with Greg Heffley and his crazy family in the fourth mega-selling instalment of Jeff Kinney's hilarious Diary of a Wimpy Kid series!
The way I like to spend my summer holidays is in front of the TV, playing video games with the curtains closed and the light turned off.

Unfortunately, Mom's idea of the perfect summer holiday is different from mine.
This summer, a beach holiday isn't on the cards, and Greg's mom's vision of 'family togetherness' really doesn't sound a whole lot of fun.
But there's a brand-new addition to the Heffley family to contend with and it looks like Greg might be outnumbered. It could be a real dog of a summer . . .
The perfect series to get children of 7+ interested in books. Even those who struggle with reading won't be able to put Greg's diaries down!
Jeff Kinney is a #1 New York Times bestselling author and four-time Nickelodeon Kids' Choice Award winner for Favorite Book. Jeff has been named one of Time magazine's 100 Most Influential People in the World. He is also the creator of Poptropica, which was named one of Time's 50 Best Websites. He spent his childhood in the Washington, D.C., area and moved to New England in 1995. Jeff lives with his wife and two sons in Plainville, Massachusetts, where he owns a bookstore, An Unlikely Story.