You are previewing:

Big Nate Strikes Again (Big Nate #2)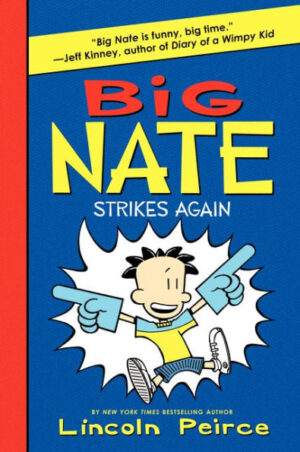 Big Nate Strikes Again (Big Nate #2)
Related Products
Customers Also Bought These
Big Nate Strikes Again (Big Nate #2)
Age Range: 8 – 12 years
"Big Nate is funny, big time!"—Jeff Kinney, author of Diary of a Wimpy Kid
For fans of Jeff Kinney and Raina Telgemeier, here comes the second novel in the New York Times bestselling Big Nate series.
BIG NATE will surpass all others!
But it won't be easy. He's stuck with Gina, his all-time enemy, in a class project for his least favorite teacher Mrs. Godfrey, aka Godzilla. To make matters worse, Gina ALSO ends up on his fleeceball team, right when Nate is set to win his first fleeceball championship ever. This is his moment for glory, but Gina's sure to steal his thunder, or ruin everything.
Will Nate win or lose? Pass or fail? Or end up in detention . . . AGAIN?
Meet BIG NATE, self-described genius and definitely NOT the teacher's pet in this comic-strip novel perfect for anyone who's ever been to middle school.
₵50.00
Out of stock
SKU:

BK3989
Categories: 9-12 years, Age Range, Ages 6-8 years, Children & Teens, Comics & Graphic Novels, Friendship, Growing Up & Facts of Life, Humorous Fiction, Illustrated books
Tags: Big Nate, Big Nate Strikes Again, Lincoln Peirce
Lincoln Peirce (pronounced "purse") is a cartoonist/writer and New York Times bestselling author of the hilarious Big Nate book series (www.bignatebooks.com), now published in twenty-five countries worldwide and available as ebooks and audiobooks and as an app, Big Nate: Comix by U! He is also the creator of the comic strip Big Nate. It appears in over three hundred U.S. newspapers and online daily at www.gocomics.com/bignate. Lincoln's boyhood idol was Charles Schulz of Peanuts fame, but his main inspiration for Big Nate has always been his own experience as a sixth grader. Just like Nate, Lincoln loves comics, ice hockey, and Cheez Doodles (and dislikes cats, figure skating, and egg salad). His Big Nate books have been featured on Good Morning America and in the Boston Globe, the Los Angeles Times, USA Today, and the Washington Post. He has also written for Cartoon Network and Nickelodeon. Lincoln lives with his wife and two children in Portland, Maine.
Customers Also Bought These