View cart
"The Iliad" has been added to your cart.
You are previewing:

A Slim Queen in a Palanquin: Verses and Chants for Children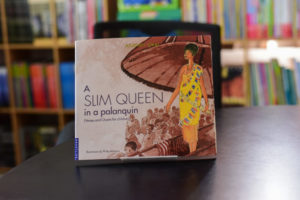 A Slim Queen in a Palanquin: Verses and Chants for Children
A Slim Queen in a Palanquin: Verses and Chants for Children
"Atukwei Okai has more skill with purely rhythmic effect thann any other living poet. Okai has little hauteur. His windows lie open, and between the panes drift love and lush vegetation. Poetry is what happens when the air-conditioning fails." Robert Fraser, West African Poetry, A Critical History
Introduce your children to this beautifully-illustrated trilogy of verses and chants from the famed poet, Atukwei Okai.
A Slim Queen in a Palanquin is a collection of verses and chants for children. And it comes at last to fill the long-starved world of our children with music and fantasy, beauty and joy.
₵15.00
Out of stock
SKU:

BK373
Categories: 9-12 years, African Authors, Age Range, Ages 3-5 years, Ages 6-8 years, Author Origin, Best Seller, Book Sets, Children & Teens, Ghana, Illustrated books, Literature & Fiction, Poetry
Tags: A Slim Queen in a Palanquin: Verses and Chants for Children, Atukwei Okai, Poetry for Children, Smartline Publishers, Verses and Chants
Prof. Atukwei Okai was born in Accra, Ghana, in 1941, he had his elementary education in Northern Ghana, then attended Methodist Middle Boys' School (Accra) and the Accra High School, before going to Moscow in 1961, where he earned his M.A. (Lit.) in 1967.
He has taught at the University of Ghana, Legon, since 1971 as lecturer in Russian literature at the Department of Modern Languages and since 1984 as Senior Research Fellow in African Literature at the Institute of African Studies. Professor Okai currently teaches at the University of Education, Winneba, Ghana.
Okai's poems have been translated into several languages and have appeared in anthologies and several prominent international journals.
He is very much a performance poet, and his poems are rooted in the oral tradition, virtually inseparable from traditional African music and dance. The poems are also politically radical and socially conscious, one of his great concerns being Pan-Africanism. Among his collections of verse are Flowerfall (1969), Oath of the Fonton-from and Other Poems (1971), and Logorligi Logarithms (1974). The last title juxtaposes the Ga and English words for the same mathematical concept, thus indicating Okai's parallel traditional and modern consciousness as a poet.