You are previewing:

1984 (Penguin Readers Level 7)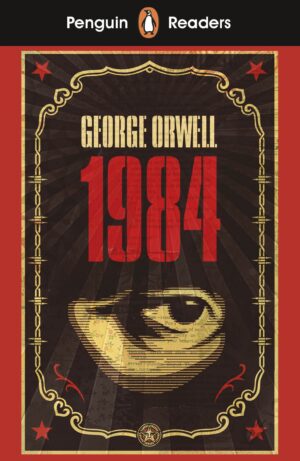 1984 (Penguin Readers Level 7)
1984 (Penguin Readers Level 7)
Age Range: 12 – 17  years
Winston Smith re-writes history for the Ministry of Truth in Oceania. Big Brother and the Thought Police watch everyone for signs of Thought Crime. But when Winston falls in love with Julia, he begins to have new ideas and hopes. Winston and Julia start to question the world that they live in – but Big Brother does not like independent thought.
Penguin Readers is a series of popular classics, exciting contemporary fiction, and thought-provoking non-fiction written for learners of English as a foreign language. Beautifully illustrated and carefully adapted, the series introduces language learners around the world to the bestselling authors and most compelling content from Penguin Random House. The eight levels of Penguin Readers follow the Common European Framework and include language activities that help readers to develop key skills.
1984, a Level 7 Reader, is B2 in the CEFR framework. The longer text is made up of sentences with up to four clauses, introducing future perfect simple, mixed conditionals, past perfect continuous, mixed conditionals, more complex passive forms and modals for deduction in the past.
₵28.00
Out of stock
SKU:

BK3712
Categories: 9-12 years, Action & Adventure, Activities, Crafts & Games, Age Range, Animals, Book Sets, Children & Teens, Children Classics, Classics, Education & Teaching, Family, Growing Up & Facts of Life, Illustrated books, Literary Fiction, Literature & Fiction, Short Stories, Short Story Collections, Teens
Tags: 1984, Animal Farm, George Orwell, Penguin Readers
Eric Arthur Blair, better known by his pen name George Orwell, was an English author and journalist. His work is marked by keen intelligence and wit, a profound awareness of social injustice, an intense opposition to totalitarianism, a passion for clarity in language, and a belief in democratic socialism.
In addition to his literary career Orwell served as a police officer with the Indian Imperial Police in Burma from 1922-1927 and fought with the Republicans in the Spanish Civil War from 1936-1937. Orwell was severely wounded when he was shot through his throat. Later the organization that he had joined when he joined the Republican cause, The Workers Party of Marxist Unification (POUM), was painted by the pro-Soviet Communists as a Trotskyist organization (Trotsky was Joseph Stalin's enemy) and disbanded. Orwell and his wife were accused of "rabid Trotskyism" and tried in absentia in Barcelona, along with other leaders of the POUM, in 1938. However by then they had escaped from Spain and returned to England.
Between 1941 and 1943, Orwell worked on propaganda for the BBC. In 1943, he became literary editor of the Tribune, a weekly left-wing magazine. He was a prolific polemical journalist, article writer, literary critic, reviewer, poet and writer of fiction, and, considered perhaps the twentieth century's best chronicler of English culture.
Orwell is best known for the dystopian novel Nineteen Eighty-Four (published in 1949) and the satirical novella Animal Farm (1945) — they have together sold more copies than any two books by any other twentieth-century author. His 1938 book Homage to Catalonia, an account of his experiences as a volunteer on the Republican side during the Spanish Civil War, together with numerous essays on politics, literature, language, and culture, are widely acclaimed.
Orwell's influence on contemporary culture, popular and political, continues decades after his death. Several of his neologisms, along with the term "Orwellian" — now a byword for any oppressive or manipulative social phenomenon opposed to a free society — have entered the vernacular.
Customers Also Bought These